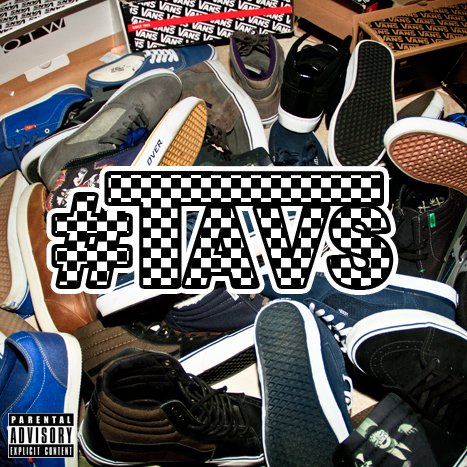 Southern Cali based hip-hop duo The Gooneez (Andre Abella and Frank Clark) followed up their earlier releases "Never Say Die," "The Key to One-Eyed Willie" and the "Outside Lookin'" mixtape series with a collaboration project called #Anonymous alongside The Fratelleez a three piece band that fuses rap, rock and punk music.
#Anonymous was released via Dubcnn for free download and boasted a lead single with Kendrick Lamar called Too Strong. The project went on to be Dubcnn's Mixtape of the Week in October 2011
Towards the end of the year The Gooneez and The Fratelleez were back on Dubcnn to release the video for their track Yep that featured on #Anonymous, a record produced by Flawless Tracks. They were back in March this year with another video from the project, this time for the track Back Home directed by Charley Mac.
Today we are delighted to announce The Gooneez and The Fratelleez have joined foreces again to release the follow up to#Anonymous entitled "#TAVS (Tattoos and Vans Shoes)." The new mixtape is being released as a precursor to their brand new original album this summer with called"Rad To The Bone" and features production and guest features from Scolla, E.Cov, Hassani Kwess & Science Parkway.
The 17 track project is being made available via Dubcnn for both download and via our streaming audio players for those at work or on the go and we urge you to download from dubcnn to truly support the westcoast and experience Free, no waiting, no passcodes download or streams via the HUB of Westcoast Hip-Hop, Dubcnn.com.
The Gooneez x The Fratelleez – #TAVS (Tattoos and Vans Shoes) (Free Download)
The Gooneez x The Fratelleez – #TAVS (Tattoos and Vans Shoes) (Streaming Audio)
Enjoy and if you missed #Anonymous – which features Andy Milonakis, Mann, Juice & Gerald Walker with production from Cardo, LiveNStereo, Big Jerm, ID Labs, & Flawless – download it today too and then hit The Gooneez and The Fratelleez up with your comments via Twitter.