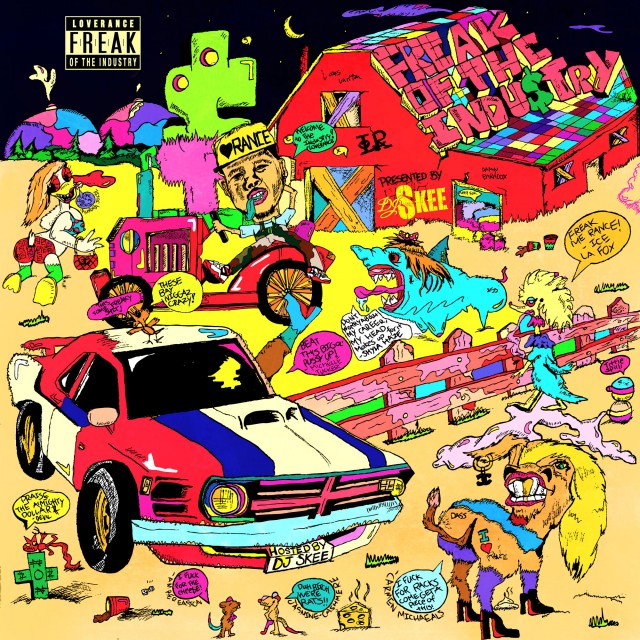 DubCNN was the first outlet to introduce you to San Francisco's shooting star LoveRance, who exploded on to the scene last year with his smash hit "Up!", featuring IamSu and Skipper, which later was remixed with 50 Cent and eventually went on to sell over 500,000 singles, making it a Gold certified record.
We interviewed LoveRance right before the record took off nationwide and Interscope Records ended up calling to take over the song, which was originally launched by independent powerhouse EMPIRE Distribution.
To end off a great year, LoveRance teamed up with the homie DJ Skee for a new mixtape called "Freak Of The Industry", which we have the pleasure of bringing you for free download today (it is also on iTunes for those who want to support). The mixtape features over 20 tracks, jam-packed with features from Problem, Omarion, Tyga, Dom Kennedy, 50 Cent, Clyde Carson, P-Lo and more, with production from The Invasion, League Of Starz and more.
LoveRance – Freak Of The Industry (Mixtape)

[raw]
[/raw]
01. LoveRance – California Stunna [Prod. By League Of Starz]
02. LoveRance – AkUp (Feat. Tyga & Problem) [Prod. By League Of Starz]
03. LoveRance – Slow Down (Feat. Clyde Carson)
04. LoveRance – Bitch Slow Down (Skit) (With Trey Parker)
05. LoveRance – Refill (Remix)
06. LoveRance – Turnt Out (Feat. P-Lo) [Prod. By Droop-E]
07. LoveRance – Girls Just Wanna Have Fun (Feat. Fillmoe Fontaine) [Prod. By The Invasion]
08. LoveRance – TRB (Feat. J-Doe) [Prod. By League Of Starz]
09. LoveRance – You Ain't Bad [Prod. By League Of Starz]
10. LoveRance – Big Dog [Prod. By League Of Starz]
11. LoveRance – The David Interview Skit
12. LoveRance – Up (Let Me Show You) (Feat. 50 Cent) [Prod. By The Invasion]
13. LoveRance – Social Network [Prod. By The Hitbangerz]
14. LoveRance – Secrets [Prod. By The Hitbangerz]
15. LoveRance – Gon Get It (Feat.Omarion) [Prod. By The Invasion]
16. LoveRance – F*ck You Gently (Skit) (Tenacious D)
17. LoveRance – Rollin' [Prod. By Titus "TJ Hooker" Johnson]
18. LoveRance – Anthem (Feat.P-Lo) [Prod. By The Invasion]
19. LoveRance – Bout That Life (Feat. P-Lo) [Prod. By The Invasion]
20. LoveRance – Dawg [Prod. By The Invasion]
21. LoveRance – Twerk'd [Prod. By League Of Starz]
22. LoveRance – Crooked I Speaks
23. LoveRance – Bounce On It (Bonus)
24. LoveRance – D.U.D.E. (Bonus)
25. LoveRance – One In A Million (Bonus)
26. LoveRance – I'm Out Here (Feat. Dusty McFly & Dom Kennedy) (Bonus)