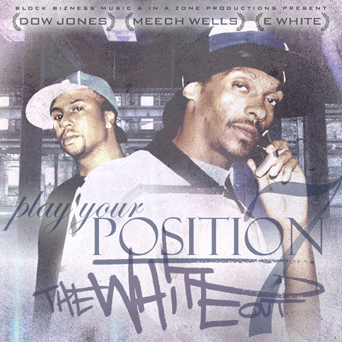 Dow Jones and the Legendary West Coast Producer Meech Wells have teamed up for another "Play Your Position" mixtape, but this time around, it features Long Beach emcee E White.

On "Play Your Position Vol. 7: The White Out", the newly released E White is ready to put the real Long Beach on the map. With Production by Meech Wells & Tha Bizness and guest appearences from Bishop Lamont, Glasses Malone, Trae, Keak Da Sneak, Mitchy Slick and many more, this Mixtape most definitely bangs.
In true dubcnn tradition we have secured the exclusive download of the mixtape with Meech Wells and the man himself; E White. The mixtape is available for paid download below for only $4.99 via paypal; there really is no excuse not to grab a copy and support E White.
Tracklist:
01) Dow Jones, Meech Wells & E White - White Out Intro
02) E White - Fresh Out
03) E White feat. Trae & Slim Thug - Drive Slow Remix
04) Glasses Malone - Fucc Wit Me (Prod. Mannie Fresh)
05) E White - Eastside Music (Prod. Veterano)
06) E White feat. Bishop Lamont - Damn Right (Prod. Meech Wells)
07) Lloyd Banks feat. 50 Cent - Hands Up
08) E White feat. Meech Wells & Quaz - In Da Ghetto (Prod. Meech Wells)
09) Rick Ross - Blow
10) E White feat. Young Joker & Drastic - Gangsta (Prod. Meech Wells)
11) Ras Kass feat. Spider Loc - 2 Much Money (Prod. Da Riffs)
12) E White - Free Agent
13) Spider Loc feat. Meech Wells & E White - Heat U Up (Prod. Meech Wells)
14) E White - From Da Block (Prod. Meech Wells)
15) Loon - Run
16) Young Joker - Compton (Prod. Tha Bizness)
17) Mitchy Slick - Mitchy Slick (Prod. DJ Khalil)
18) E White - Roll Call (Prod. Meech Wells)
19) E White feat. Meech Wells - In My Life (Prod. Meech Wells)
20) Young Joker-New West Coast (prod. Meech Wells)
21) Cavie feat. Kam, Young Dre & West Coast Goon Squad - So So (Prod. Tha Bizness)
22) Moses - Run The Beach (Prod. Ryan)
23) Meech Wells - Play Your Position
24) E White feat. Bad Azz - Gettin Mine (Prod. Meech Wells)
25) E White - Snakes (Prod. Tha Bizness)
26) Young Joker feat. Meech Wells - Back 2 Tha Streets (Prod. Meech Wells)
27) E White feat. Kokane & Meech Wells - Where I Come From (Prod. Meech Wells)
28) E White - Pass Me By (Prod. Meech Wells)
29) Keak Da Sneak - Pass Da Drank
30) E White feat. Meech Wells & Moses - Thats Gangsta (Prod. Meech Wells)
31) E White - White Out Outro