Credited with the birth of Gangsta Rap, the west coast, is recognized for its iconic hip-hop artists like Tupac (RIP), Dr. Dre, Snoop Dogg, DJ Quik & the bay area's Mac Dre and E-40. The best coast is now flooding the game with a new wave of talent including powerhouse camp TDE, Dom Kennedy, Nipsey Hussle, Skeme, Dubbz, Sage The Gemini and now a south central spirited scribe by the name of Cozz. Having first been introduced to his music by a cousin of mine, I was instantly & logically hooked to this dope MC. His debut album properly entitled "Cozz N Effect" tales the aspirations and dreams of a young black male finding purpose in his craft & talents.
Without any extensive background in the game, Cozz is fairly new to the playing field but sporting an impressive skill set nonetheless. Only 20 years old, this rhymer on the rise is signed to J.Cole's imprint Dreamville operating under mother label Interscope records. A fitting home, Cole has given his artist what he himself covets most, and that is creative freedom and control. With no restrictions Cozz and his camp were able to put their own plan in place to present this hard body of work. Speaking volumes to his bright future, the Mitty Gang's front man had nearly the entire album prepared before pushing it in J.Cole's direction.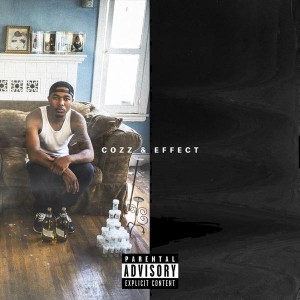 Being that he is from the west coast a bias presents itself, as I am naturally going to support the home team. That aside, skill speaks for itself and this L.A. native is making sure he is heard loud & clear. Building off the major response to his first single & video "Dreams", Cozz has made his impression felt throughout the hip-hop community east to west. A patent combination of conscious content, attitude and appetite, the Westside wordsmith detains his listeners with bars worth their weight in gold. Following his first single with the release titled after his second alias, "Cody Macc", this up and comer only furthered the belief in his upside while providing a vivid visual to aide his cause (pun intended).
The record is an announcement of his arrival & a worldwide warning disguised with witty wordplay for an MC willing to challenge his adamant stance. Cozz laces his growing fan base like a fresh pair of chucks with insightful & introspective tracks like "Western Ave Slaves" & "Come Get It" which highlight his depth for those studying the verbiage. Cody Macc also receives features from Dreamville label mates Bas on "I Need That" and Forest Hill Drive's own J.Cole on "Knock The Hustle (Remix)" to strengthen a project already worthy of all its mentions. Effected by his music and passion Cozz has given critics & fans alike reason to consider him in the conversation for the next prominent MC out of the City of Angels. Expanding his name with performances and interviews nationwide you can be sure to expect more from the newfound MC. Nearly polished like a fifteen year veteran, Cozz still has his own journey to embark on before reaching his artistic pinnacle; his project "Cozz-N-Effect" foreshadows to a looming greatness yet to be recognized. Nonetheless I expect him to ascend to new heights & stand as one of the west illest.
[Download: Cozz's Cozz-N-Effect via iTunes | http://apple.co/1vdr3cD ]