Free Mixtape Download: Crooked I - St. Valentine's Day Bossacre
[Hosted & Mixed by DJ Nik Bean & DJ Felli Fel]



Free Mixtape Download: Crooked I - St. Valentine's Day Bossacre
[Hosted & Mixed by DJ Nik Bean & DJ Felli Fel]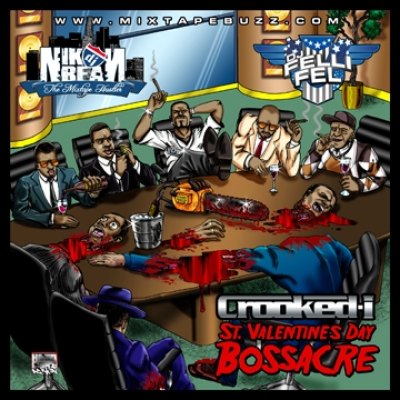 Crooked I - St. Valentine's Day Bossacre:


01. St. Valentine's Day Bossacre Intro
02. The Boss
03. Dj Nik Bean & Dj Felli Fel Speak
04. Finer Things (Prod. by Felli Fel)
05. Freedom ft. Fred Knuxx (Prod. by X-plosive)
06. Crooked Don't Dance (Prod. by MG)
07. What that Mean (Prod. by Rick Rock)
08. Bossacre Skit #1
09. Boss Biter
10. Real Boss Life
11. Valentine's Day Delivery
12. My Life 2.0 (Prod. by Komplex)
13. The Music Industry (Remix) Ft. Termanology, Royce Da 5'9, Akrobatik & Consequence
14. Wake They Game Up ft. Yukmouth
15. Cal-if-or-ni-a ft. Mr. Silky Slim, Roscoe Umali, & Mash (Prod. by BH)
16. Bossacre Skit #2
17. Act Like You Know ft. Mic Moses (Prod. by Meech Wells & Tha Pusher)
18. St. Valentine's Day Bossacre Outro
Related Links
Crooked I - Hip-Hop Weekly's Audio Archive


Free Mixtape Download: Crooked I - St. Valentine's Day Bossacre
[Hosted & Mixed by DJ Nik Bean & DJ Felli Fel]

This link must not be shared; to share this mixtape please direct people to this page with the following link: www.dubcnn.com/mixtapes/crookedi-bossacre

For any other queries please don't hesitate to contact us at support@dubcnn.com

www.dubcnn.com
The Westcoast News Network.