G-UNIT - Live In Europe | (October 2005)



The entire G-Unit crew has been touring across Europe for the past few months. When I say the entire crew, I mean: 50 Cent, Young Buck, Lloyd Banks, Olivia, Mobb Deep, 40 Glocc, M.O.P., Mase, Big Twin, Spider Loc, DJ Whoo Kid & Alchemist. Tony Yayo wasn't present due to his parole situation.
I rolled to the show with the homie DJ Static, and the fresh Infamous/G-Unit signee 40 Glocc took us in. I was surprised about the very good atmosphere inside the camp, everybody seemed to be getting along and in a good mood.
In the backstage area, Havoc, Prodigy, Lil Fame, Alchemist, 40 Glocc and more were eating, the latest DJ Whoo Kid mixtape banging through the speakers. Everybody was getting ready for the show, getting dressed, and focused before entering the stage in Karlsruhe, Germany.

About 15,000 fans were waiting outside for 50 Cent and his crew to rock the house. Those who have seen G-Unit in concert before know that they're not necessarily known to be very good performers, but I was hoping for Mobb Deep & M.O.P to rip it. As always, 50 started with "What Up Gangsta!" and then went through his hits, from his first album as well as "The Massacre". Although he has improved his stage performance, I have to say for an artist of his caliber, he has little to no stage presence, and he does the same hand movement throughout his whole set. With Young Buck and Lloyd Banks, his hype men during his verses, often being louder than him, you start to wonder what the crowd is going crazy about.

Mobb Deep get on stage after about half an hour and perform "Out Of Control" with 50, then do "Got It Twisted", "Shook Ones II" and "Quiet Storm". Afterwoods, Billy Danze & Lil Fame got on stage to do "Ante Up" and "Cold As Ice" and left. Throughout the one and a half hour performance, 50 also brought out Mase, who only did his verse off "Mo' Money Mo Problems" and exited the stage again. Olivia came out to perform "Candy Shop" aswell as her Jelly Roll-produced single "Twist It" with Lloyd Banks. Mobb Deep were the highlight to me, although Havoc did sound better on stage, while Prodigy was sometimes hard to hear. M.O.P. came with a lot of energy, too bad they only did two songs.

Roughly halfway through the show, Young Buck took the stage by himself for a chronic break, calling West Coast G-Unit artist Spider Loc to the front. Buck introduced Spider to Germany, as G-Units newest addition (although he was signed months prior to Mobb Deep, M.O.P. and Mase...) from the West Coast, and made the whole crowd put up their W's and yell out "Go Spider, Go Spider". Spider himself just chilled on stage, lit Buck's blunt and threw up his Dub's.


I can't forget to mention 50 Cent's shots at Game during the show neither. At some point he stopped the music and addressed the crowd. "If you got love for 50 Cent & the G-Unit, let me hear you say G-UNIIIT!", followed by everybody yelling "G-UNIT!". He continued his speech with "And if you don't got love for 50 Cent & the G-Unit, let me hear you say G-UNOOT!", followed by the crowd, alot of them obviously not realizing what 50 was saying, yelling out "G-UNOT!". I have to admit, the look on 50's face was priceless. As always, 50 added "Ok for all of those who yelled G-Unit, thank you for the support! For all those who yelled G-Unot, thank you too. Go pick up The Documentary, and make me rich! I make more money off Game's album than Game does! Haha! First me and Dre make money, before Game see's any money! So make me rich!". A woman in the front row screamed "Game is better than you!", which 50 laughed at and replied with "If Game was really better than me, he could do this..." and "In Da Club" started banging through the speakers, making the venue go crazy of course.

Overall, it was a pretty cool show, always good to see the M.O.B.B. and M.O.P., Young Buck is a good performer aswell. 50 has improved, but he still has a long way to go before he can be called a good performer.

After the concert, we caught up with the G-Unit crew at the hotel and at the afterparty, got some pictures for ya'll, aswell as some exclusive video drops. Check below for pictures and drops from Young Buck, 40 Glocc, Mobb Deep, M.O.P., Alchemist, DJ Whoo Kid, Spider Loc and more...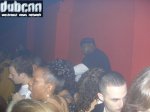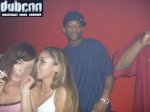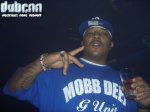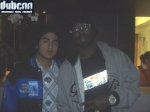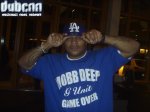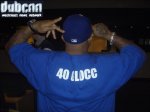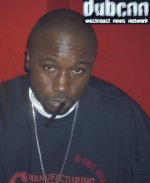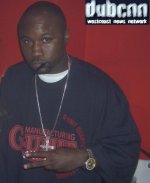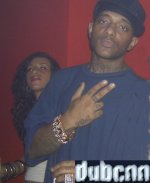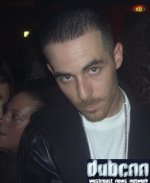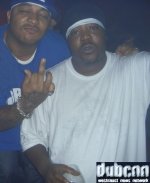 40 Glocc Dubcnn.com Shoutout

Spider Loc Dubcnn.com Shoutout

Prodigy Dubcnn.com Shoutout

Havoc Dubcnn.com Shoutout

Young Buck Dubcnn.com Shoutout

Lil Fame Dubcnn.com Shoutout

Alchemist Dubcnn.com Shoutout

DJ Whoo Kid Dubcnn.com Shoutout

Big Twin (Infamous) Dubcnn.com Shoutout