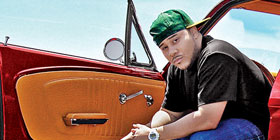 We first announced "Golden State Warriorz 2" – the follow up to the acclaimed 2008 project "Golden State Warriorz" – back in August 2010 with the release of audio and video for the "I'm Here Now" single. Later that year we dropped the second track to be heard from the upcoming LP that saw Balance link up with The Freshmen and Priscilla Cruz over a THX production on Alive.
The release was delayed but Balance continued to release new music in 2011 including the single Thats Tha Ticket featuring P Child, Traxamillion & Mr Kee as well as a music video before dropping the Dae One collaboration project B-DAE EP for free download.
The B-DAE EP spawned singles including Inception featuring Uncle Murda, Bishop Lamont and J Myers as well as Thinking With My D*ck featuring Casual and A Wolf.
Having made an appearance on our very own Microphone Masters Radio Show – Episode 36 (12/19/11) recently, Balance is back today to confirm that "Golden State Warriorz 2" will now be released in March and to drop off a video from the release featuring Mitchy Slick entitled "My Own Shit" – watch it below!
Balance – My Own Shit (Feat. Mitchy Slick) (Video)
Stay tuned to Dubcnn for more news and music from Golden State Warriorz 2 over the coming weeks.