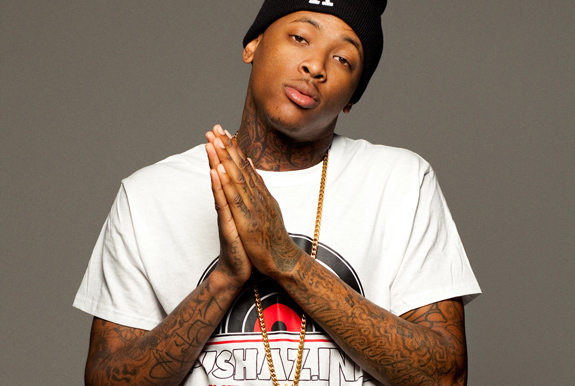 Earlier this year YG and DJ Mustard confirmed their status as one of the hottest duo's in the game by dropping their 4HunnidDegreez mixtape.
YG's hit-making abilities have been proven time and time again since he smashed the game with "Toot It & Boot It", the "Snitches Ain't Shit" single as well as "Bitch Betta Have My Money" – meanwhile Mustard has been making a killing with "Rack City" as well as Problem's smash, "T.O.".
The duo released 4HunnidDegreez in March while on their 45-city tour withTyga, having teamed up with DJ Drama & DJ ill Will.
Today YG announced he is heading out for his first headlining "4 Hunnidº Tour" that starts at SOB's in New York on May 30, tickets for it are now available for purchase at Ticketweb.
The tour sees the Compton, CA based rapper on the road from 5/27 to 8/4 taking in the cities shown below.
MAY 30: NYC SOB's
JUNE 23: Powerhouse Performance in Los Angeles, CA
JULY 3: Sacramento – Ace of Spades
JULY 7: Modesto Studio 47
JULY 8: Modesto Sports Bar and Grill
JULY 13: Ventura, CA Ventura Theater
JULY 21: Pico Rivera, CA El Rodeo
JULY 25: Eugene, OR WOW Hall
JULY 26: Portland, OR Bosanova
JULY 27: Tacoma, WA Club Vanity
JULY 28: Seattle, WA Neumo's
Ensure you see YG when he hits your city and while you wait download 4HunnidDegreez today free on Dubcnn.com.