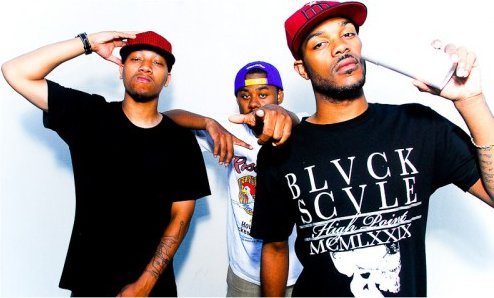 Pac Div's released their sophomore album, GMB, last month on iTunes.
The 17 track iTunes bonus deluxe version boasts several key features, including Kendrick Lamar, Blu, Mac Miller & Kurupt. We've already brought you tracks including "Black Acura" and most recently Sneakerboxes with Chip Gnarly and Big Sik.
Today Pac Div have announced they will join forces with Snoop Dogg for a string of West Coast performances in December.
In addition to a handful of headlining shows in California, Pac Div will be opening for Snoop between December 9th and December 22nd. The guys are excited to share a stage with the gangsta rap icon, but it will not be the first time Pac Div has crossed paths with Snoop Dogg as Mibbs was quick to point out;
"We first met him about five years ago, and were really happy to find out that he's been a fan since we started. Joining forces with a legend is a precursor that one day we'll be known as legends. Touring with Snoop will only add to our list of many accomplishments."
The impending tour with Snoop mirrors the Cali-centric theme of GMB, which chronicles Pac Div's journey as they usher in the revitalization of LA's hip-hop scene. To purchase tickets for Pac Div's tour with Snoop Dogg, please visit itsthediv.com/tour
Upcoming Pac Div Shows
Dec. 7 – Low End Theory, San Francisco, CA
Dec. 9 – Majestic Theatre, Ventura, CA
Dec. 11 – Belly Up Tavern, Solana Beach, CA
Dec. 12 – Fox Theatre, Pamona, CA
Dec. 13 – The Catalyst, Santa Cruz, CA
Dec. 14 – The Uptown Theatre, Napa, CA
Dec. 15 – Phoenix Theatre, Petaluma, CA
Dec. 16 – Ace of Spades, Sacramento, CA
Dec. 17 – Ashland Armory, Ashland, OR
Dec. 18 – Midtown Ballroom, Bend, OR
Dec. 19 – Knitting Factory, Spokane, WA
Dec. 20 – Revolution Center, Boise, ID
Dec. 21 – The Depot, Salt Lake City, UT
Dec. 22 – House of Blues, Las Vegas, NV
Dec. 29 – Fulton 55, Fresno, CA