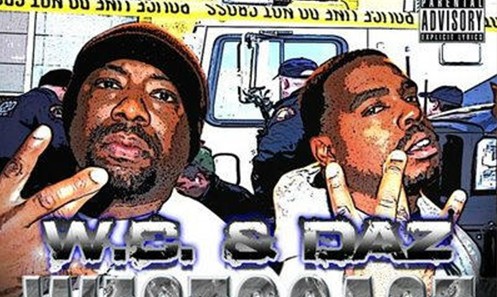 The internets were buzzing earlier this week, when footage of West Coast vets Daz Dillinger and WC surfaced, showing the two of them in the studio working on their upcoming collaboration album "West Coast Gangsta Shit". While no official release date has been announced, you can expect a release around July/August.
There's artwork to the album floating around online, however you best believe that won't be the final album artwork – just something that was thrown together real quick. After having had the chance to preview a couple of the songs, I can tell you this is going to be one of the rawest West Coast albums in a while.
Daz and WC one on one, doing what they do best – West Coast gangsta shit. As of now, no guest appearances have been set, although you can expect to hear the homie Butch Cassidy on something. The album will be releasing independently via Daz and WC's imprints and distributed via EMPIRE Distribution.
DubCNN will be your source of information for this album, expect to hear the first leak and/or music video within the next couple of weeks. The DPG and WSC done connected again!