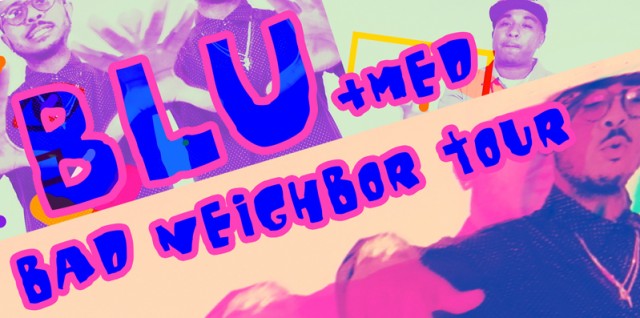 With his new double album "Good To Be Home" now in stores everywhere, L.A. emcee Blu is hitting the road for a 28-city U.S. tour.
In recent months he's been on DubCNN with "The West" and a remix to "Rap Dope" from his new project.
Now with the album out he's linked with longtime Stones Throw artist MED, for the Bad Neighbor Tour which kicks off on July 30th and runs until early September. Complete tour dates and official tour flyer below!
Wed, July 30, 2014: Santa Ana, CA @ Observatory • Tickets
Thur, July 31, 2014: San Diego, CA @ Casbah • Tickets
Fri, Aug 1, 2014: Pasadena, CA @ Terrace • Tickets
Sat, Aug 2, 2014: Tucson, AZ @ Rock • Tickets
Sun, Aug 3, 2014: Riverside, CA @ Vibe • Tickets
Mon, Aug 4, 2014: Tempe, AZ @ Club Red • Tickets
Wed, Aug 6, 2014: El Paso, TX @ Sector 7 • Tickets
Thur, Aug 7, 2014: Austin, TX @ Spiderhouse • Tickets
Fri, Aug 8, 2014: San Antonio, TX @ Reggae Bar
Sat, Aug 9, 2014: Houston, TX @ Numbers
Sun, Aug 10, 2014: New Orleans, LA @ Hi Ho Lounge • Tickets
Tue, Aug 12, 2014: Miami, FL @ The Nest
Wed, Aug 13, 2014: Orlando, FL @ Peacock Room
Thur, Aug 14, 2014: Atlanta, GA @ 529 • Tickets
Sat, Aug 16, 2014: Charlotte, NC @ Neighborhood Theatre • Tickets
Sun, Aug 17, 2014: Washington, DC @ Liv • Tickets
Tue, Aug 19, 2014: New York City, NY @ SOBs • Tickets
Wed, Aug 20, 2014: Pittsburgh, PA @ Ava
Thur, Aug 21, 2014: St. Louis, MO @ Blank Space
Fri, Aug 22, 2014: Chicago, IL @ Shrine • Tickets
Sat, Aug 23, 2014: Kansas City, MO @ Riot Room • Tickets
Sun, Aug 24, 2014: Minneapolis, MN @ 7th Street Entry • Tickets
Wed, Aug 27, 2014: Denver, CO @ Roxy Theatre
Thur, Aug 28, 2014: Greeley, CO @ Moxi Theatre
Sat, Aug 30, 2014: Missoula, MT @ Palace
Tue, Sept 2, 2014: Seattle, WA @ Barboza • Tickets
Fri, Sept 5, 2014: Boise, ID @ Reef
Sun, Sept 7, 2014: Santa Cruz, CA @ Catalyst