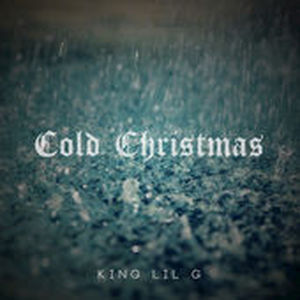 KING LIL G PREMIERES NEW SONG
"COLD CHRISTMAS"
NEW ALBUM "LOST IN SMOKE 2"
RELEASES APRIL 20th
Today, Inglewood rapper King Lil G shares a heartwarming testimony with his brand new single "Cold Christmas". Over Foth Diem's haunting production, King Lil G vividly reflects on his poverty-stricken childhood assuring his young fans that their family's faith and love is more enriching than any material possessions. "Cold Christmas" will also be released on King Lil G's forthcoming album, Lost In Smoke 2, due out April 20th via DEL Records.
"When I wrote this, I was inspired by the unconditional love a mother can give a kid. Overall I wanted to give a message that life is not about materialistic things. Faith in God and Love can take us to the right places in life," explains King Lil G
Fans can join King Lil G at his hometown album release show on April 22nd at The Novo by Microsoft (formally Club Nokia). Tickets are on-sale at 10AM PST today at: http://www.thenovodtla.com/events/detail/308617
"COLD CHRISTMAS" LINKS:
iTunes
Spotify
VEVO
SoundCloud
Artist: King Lil G
Song: Cold Christmas
Producer: Foth Diem
KING LIL G – SOCIALS:
Facebook
Instagram
YouTube
King Lil G's Official Website:
http://www.kinglilg.com
About King Lil G:
Born and raised in Inglewood, CA by a single Mexican mother, King Lil G had a troubled youth where he joined a gang, dropped out of school, fathered a child while he was still a minor, and became incarcerated. But beyond his rough exterior, King Lil G is a true artist with an honest message of Hope.
"I wanted to rap about the struggle – real street stuff that I was going through," says King Lil G. He created the Sucios Movement, which he explains as "a positive movement that has to do with freedom and not being afraid to accomplish and do things… its empowerment for those that don't think they can make it and come from nothing."
His gangster hip-hop sound is influenced by the G-funk flavor of 90s West Coast legends Tupac, Snoop Dogg, Too $hort and Dr. Dre as well as Mexican folk ballads called corridos music.
Originally known as Lil Gangster, the rapper debuted his Mexican-centric G-funk influenced style on PR Records with mixtapes LA County's Most Wanted and Hood Money. Later joining Double 9 Records, he then released Blue Devil, Pt. 2 featuring single "Letter To Dr. Dre" featuring Big Swiisha (4.2 million views) and King Enemy featuring singles "Narco Corridos" (4.5 million views) and "Who Shot 2Pac" (6.7 million views). In 2014, he signed onto MIH Entertainment and dropped his Lost In Smokemixtape with single "Welcome to LA" (6.7 million views) and his AK47 Boyz mixtape, which featured the single "Hopeless Boy" featuring David Ortiz (8.8 million views) and title track "AK47" (7.1 million views). His latest mixtape '90s Kid featured LA's Power 106 favorite "Grow Up" (6.5 million views).
MEDIA INQUIRES:
Greg Miller
Big Hassle Media
greg@bighassle.com