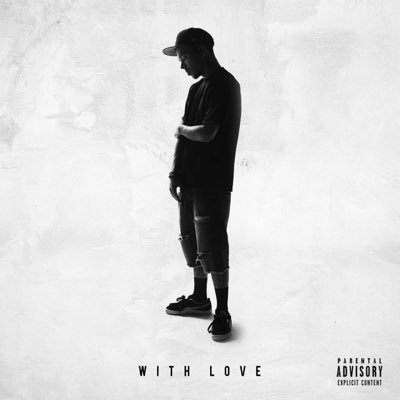 Warner Bros Records today announces the latest addition to its growing roster of emerging talent with the signing of west coast rapper / songwriter Phora. The 22 year old Anaheim, CA native joins Warner Bros on the heels of his successful 2016 independent release, With Love. The album reached number one on the iTunes rap chart. Phora is now patiently gearing up for his first major label debut — Yours Truly Forever — and the 'Yours Truly' tour this summer.
"I set goals for myself that I had to reach independently before I signed," Phora explains about inking the deal with Warner earlier this year. "With Love became a number one rap album on iTunes, and I reached certain pinnacles. Things were getting hectic. Warner Bros. Records saw the vision and didn't want to change it. I was anti-major label, but this particular relationship is going to bring everyone to new heights."
"He has a very dedicated and loyal fan base," explains Eesean Bolden, VP of A&R about signing Phora. "He's built a community of fans that have inherently followed his career from day one. We just want to help expand that base and bring more fans into his ecosystem.
From a troubled teen to a successful tattoo artist to now king of the 'yours truly' movement, Phora has survived a brutal stabbing, almost fatal car crash and a shooting to still create music. He finds truth in the grind and gives it back to millions of fans everywhere. "I hope listeners can find themselves in what I do," he reflects. "I want to give them the harsh reality of what certain people are going through in certain areas. At the same time, I want to uplift them. We're all going through something. The next man is fighting a battle you don't know anything about. Respect and relate to each other. That's my message."
On his Warner Bros. Records debut single "
Slow Down
," Phora lets loose over a subtle beat and synth hum. He shouts out a homie who got shot,
"I hope he was lucky as me,"
and shares regrets about when his
"grandpa passed away"
and a promise to
"mama
,
"
before crooning on the hook,
"I just think I need to slow down."
"The song is about drifting apart from family and friends, hence the title 'Slow Down'," he says. "With everything right now, I feel like my life is going at crazy pace. I get so deep into this world that I lose touch myself and everyone around me. It's a reminder take a step back and breathe."
For more information log onto
www.yourstrulyforever.com
. Tickets will go on sale for the
'Yours Truly'
tour Thursday, April 6th
at
10 am EST
. Stay connected with Phora on
Instagram
(@phoraone),
Twitter
(@phoraone),
Facebook
(facebook.com/PhoraOne),
YouTube
(youtube.com/user/phorakoncreteculture) and
Soundcloud
(soundcloud.com/phoraone).
Tour Dates:
6/20/17 Ventura CA – Ventura Theatre
6/21/17 Bakersfield CA – Bryders
6/22/17 Las Vegas NV – Hard Rock Vinyl
6/23/17 Santa Ana CA – Observatory
6/25/17 Los Angeles CA – The Regent
6/27/17 Fresno CA – Strummer's
6/28/17 Santa Cruz CA – The Catalyst
6/29/17 Oakland CA – Complex Oakland
6/30/17 Reno NV – Jub Jubs
7/1/17 Sacramento CA – Harlows
7/2/17 Portland OR – Hawthorne
7/3/17 Seattle WA – El Corazon
7/6/17 Spokane WA – The Pin
7/7/17 Salt Lake City UT – The Complex
7/8/17 Denver CO – The Roxy
7/9/17 Colorado Springs CO – The Black Sheep
7/13/17 Kansas City MO – Riot Room
7/14/17 Minneapolis MN – Lumber Exchange Center
7/15/17 Chicago IL – Portage Theatre
7/16/17 St Louis MO – Pop's
7/20/17 Washington DC – Songbyrd
7/21/17 Boston MA – Middle East
7/22/17 New York NY – Studio @ Webster Hall
8/1/17 Dallas TX – RBC
8/2/17 Houston TX – Waltors
8/3/17 Austin TX – Empire Control Room
8/4/17 San Antonio TX – Paper Tiger
8/5/17 Albuquerque NM – Too Zany
8/6/17 Phoenix AZ – Club Red