Today, touring giant Tech N9ne releases the dates for his Tech N9ne's Independent Grind Tour 2018, hitting venues this fall. The national tour, which includes shows at Kansas City's Power and Light District Festival and Denver's 18,000-capacity Fiddler's Green, will kick off October 6 and features Dizzy Wright and Futuristic along with special guest, Krizz Kaliko.
Last month, Tech N9ne and Boulevard Brewing Company collaborated to launch a new seasonal craft beer, Bou Lou. The signature beer will be featured at most venues on the tour, as well as select retailers in certain markets.
See below for full list of tour dates and VIP package details!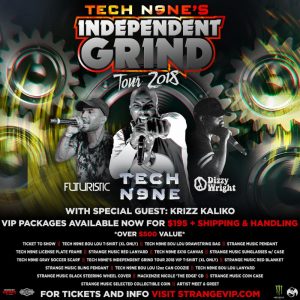 Tech N9ne's Independent Grind Tour 2018 Dates:
10.06.2018 – Kansas City Power & Light District – Kansas City, MO
10.08.2018 – Slowdown – Omaha, NE
10.11.2018 – The Hangar – Bar Nunn, WY
10.12.2018 – Fiddler's Green – Englewood, CO
10.13.2018 – Belly Up Aspen – Aspen, CO
10.14.2018 – The Complex – Salt Lake City, UT
10.16.2018 – Knitting Factory [Boise] – Boise, ID
10.18.2018 – Knitting Factory [Spokane] – Spokane, WA
10.19.2018 – Greater Tacoma Convention Center – Tacoma, WA
10.20.2018 – Midtown Music Hall – Bend, OR
10.21.2018 – Showbox SoDo – Seattle, WA
10.23.2018 – The Senator Theatre – Chico, CA
10.24.2018 – Ace of Spades – Sacramento, CA
10.25.2018 – The Catalyst Club – Santa Cruz, CA
10.26.2018 – Tioga Sequoia Brewing Company – Fresno, CA
10.27.2018 – The Majestic Ventura Theater – Ventura, CA
10.28.2018 – Brooklyn Bowl Las Vegas – Las Vegas, NV
10.29.2018 – House of Blues San Diego – San Diego, CA
10.30.2018 – House of Blues Anaheim – Anaheim, CA
10.31.2018 – Marquee Theatre – Tempe, AZ
11.01.2018 – The Orpheum Theater – Flagstaff, AZ
11.02.2018 – The Rialto Theatre – Tucson, AZ
11.04.2018 – The Historic El Rey Theater – Albuquerque, NM
11.06.2018 – The Aztec Theatre – San Antonio, TX
11.07.2018 – House of Blues Houston – Houston, TX
11.08.2018 – Emo's – Austin, TX
11.09.2018 – Gas Monkey Live! – Dallas, TX
11.12.2018 – Vinyl Music Hall – Pensacola, FL
11.13.2018 – The Ritz YBOR – Tampa, FL
11.14.2018 – Culture Room – Fort Lauderdale, FL
11.15.2018 – The Plaza Live – Orlando, FL
11.16.2018 – Mavericks Live – Jacksonville, FL
11.18.2018 – Cone Denim Entertainment Center – Greensboro, NC
11.19.2018 – Rams Head Live – Baltimore, MD
11.20.2018 – Gramercy Theatre – New York, NY
11.23.2018 – The Worcester Palladium – Worcester, MA
11.24.2018 – The Westcott Theater – Syracuse, NY
11.25.2018 – The Agora – Cleveland, OH
11.27.2018 – Clyde Theatre – Fort Wayne, IN
11.29.2018 – The Rave / Eagles Club – Milwaukee, WI
11.30.2018 – Myth – Saint Paul, MN
12.01.2018 – Hard Rock Hotel & Casino Sioux City – Sioux City, IA