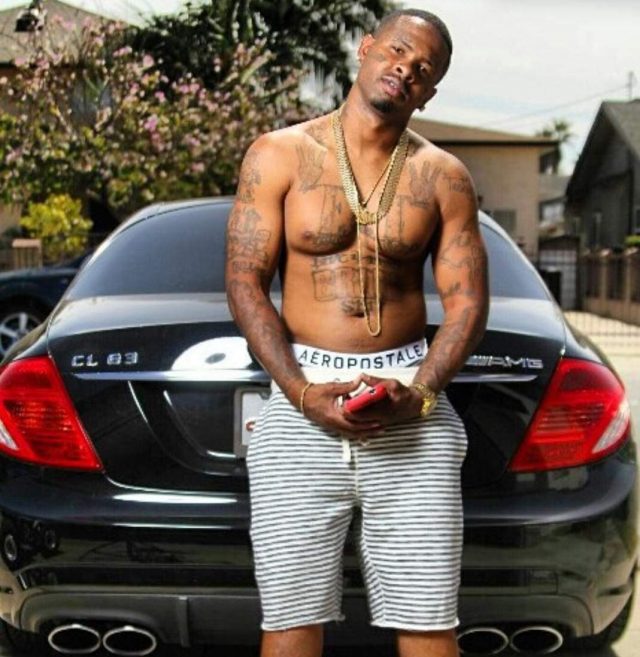 AOB Fingaz (NWB LILSUWOP) was born and raised in South Central, Los Angeles. At the young age of 13 years old, he witnessed his best friend, Charlie, get murdered by an older gang member while AOB Fingaz barely escaped with his own life. Deciding to never become a victim, Fingaz began gangbanging, joining the original Blood set, the LA Brims. While running the streets of South Central, Los Angeles, Fingaz became entrenched in the gang culture and all it encompasses, which eventually landed him in prison.
Seeking a change of direction, Fingaz began recording music. His first publication featured his homeboy Stretch, and the one-and-only Bloody Mary. In 2008 he signed a recording contract with G-Nutt's imprint Yard Down Muzik Ink. Alongside G Telly, Dusem'$, Gladiator Nino, and YDM, Fingaz began buzzing on the underground hip-hop circuit. Equipt with unquestionable street credibility, he was soon performing throughout Southern California with hip-hop heavyweights such as YG, Ty Dolla $ign, Joe Moses, Bad Lucc, Mistah F.A.B., Too Short, League of Starz and Chris Brown. Fingaz also co-authored the single HIT YO BRIMIN with Dusem'$, going viral.
Fingaz later signed to Joe Moses' 'Suwop' imprint; AOB now NWB, with tutelage from Moses while rebranding as Lil Suwop. Fingaz then retained a new manager, "Don Dadda," and began blazin the streets with standout tracks like "Cash Out," featuring Joe Moses, "Whoopin," featuring Mitchy Slick, while making guest appearances on DJ Goonie's 'Western Conference' vol. 26 and 28. Fingaz also appeared on Joe Moses' "From Nothing to Something 3" Mixtape and the NWB Mixtape, contributing the song "Where You From."
With his star on the rise it didn't take long for haters from a rival gang to try to rob him at one of his North Hollywood shows. After a struggle for the gun, Fingaz was shot twice. AOB Fingaz feels he has actually died three times, but God wasn't through with him. Now, while recovering in hospital, beginning physical therapy to walk again, he releases what will be one of must-have projects this upcoming summer, "Blood Pressure." The album features his long time 5*NWB family, and production by DJ Mustard, Streetz and Tricky, and Drummaboy, displaying his talent at an elite level. "Blood Pressure" reinforces that sometimes God's plan is bigger than any of us could conceive.