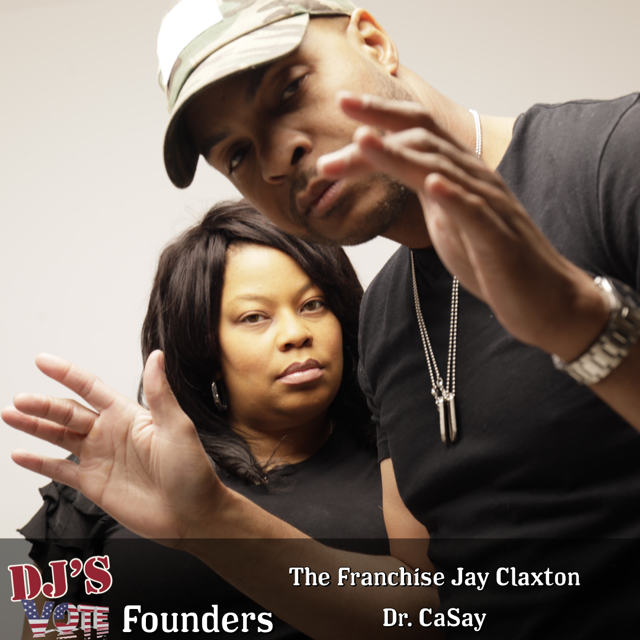 DJ's ARE THE PULSE
DJ'S VOTE
With today's political climate it is imperative that we do everything to assure that everyone gets involved in the 2020 elections. Our country is in turmoil and the only way for us to grow is if we all understand how much our "Vote Matters". In order for us to have change, we must insight change. Nationally and Locally, it is very important that we educate and understand the issues that affect our daily life.
DJ's Vote is a movement assembled with national and celebrity DJs and Influencers across the country to bring political education and engagement. Organizers and Co-Founders Dr. CaSay Vaughn and celebrity DJ The Franchise Jay Claxton, bridge the gap and unite them together to use their voices for more than hosting a party. "We are encouraging their following to exercise their civil rights." Educating on how the political process works and what we can do to improve our quality of life.
DJ's Vote is a nonpartisan organization designed to represent the concerns and interests of all people. DJ's Vote is not affiliated with any political party. We are invested in promoting and displaying the message of the importance of becoming politically involved. Educating all to use their rights to assist in creating a stronger community.
DJ's Across the Country uniting to support the message of the importance of voter's registration. An Army of Ten and Growing we have collaborated with such talent as Diondeezy – SiriusXM The Heat, On-Air Personality and Influencer April Watts, Mid-Day Diva WPGC Poet, Beats One DJ and LA Leakers B-Eazy the Infamous Rockstarr DJ'z – RSDJ Kayplaya 104.3 (LV), 97.7 (Palm Springs), 92.7 (SF), RSDJ Dmoney, RSDJ Hue Holla (Hot 97.5 (LV), and RSDJ Mizzy Matt formerly of KVEG.
Anyone who is of legal age to vote and does not yet have a voter's registration card can go to www.djsvote.org and register to vote. You can also follow us on Instagram @djsvote. We want to hear from you. Let's change the world one vote at a time.