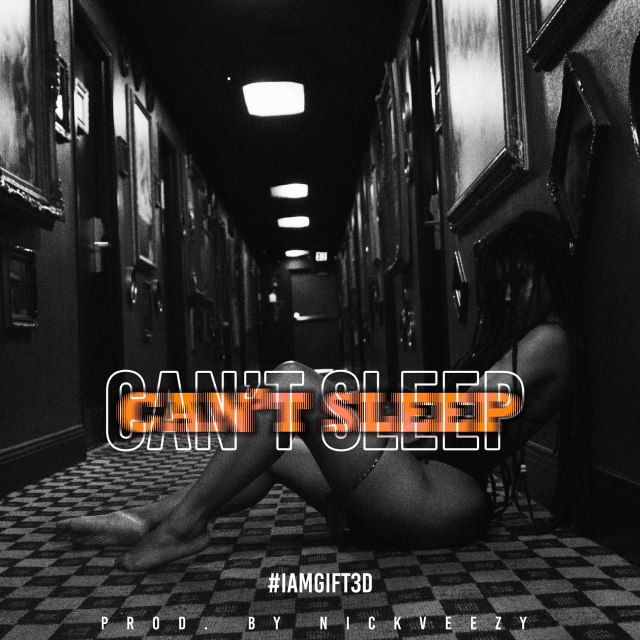 IAMGIFT3D teamed up with NICKVEEZEE of the Baka Boyz to deliver a new single "Can't Sleep," due out March 30 via BBM / Empire. Equal parts sexy and scary, the track brings out the best of IAMGIFT3D's considerable songwriting depth and vocal ability. The track follows a slate of A-list collaborations across several genres for IAMGIFT3D, including Vali, W-inds, and Ras Kass.

NICKVEEZEE is widely recognized as a tastemaker and curator of great music. The Baka Boyz—brothers Eric and Nick V are now in their 20th year of running two internationally syndicated mix shows. In addition to being radio royalty, the Baka Boyz produced the West Coast anthem "Pistol Grip Pump," which was covered by Rage Against the Machine.

"Can't Sleep" is available at: https://empire.ffm.to/cantsleep
About #IAmGifted3D
His name speaks for itself, Gifted Johnson, who goes by the pseudonym IAMGIFT3D, is one of the music industry's best-kept secrets. Reminiscent of some of the greatest crooners of our time, Gifted's melodic, multi-octave voice is hypnotic and incomparable. 
For several years, Gifted has been behind the scenes making music history for some of the industry's best artists to date. Born to a gospel singing mother, he was exposed at an early age to the various areas of the industry, which ranged from voice, production, musicianship, and dance.
Determined to propel forward, he dedicated his time honing each craft, ultimately mastering them. Inspired by the love of the art, his current project is truly remarkable, breathing life and innovation into all of his songs. In addition to singing, Gifted is also an amazing producer and songwriter.
After many years of hard work, dedication, and commitment, Gifted graced the stage with performers such as Ne-Yo, Miguel, Common Kings, Brian McKnight, Cherish, D4L, Ray J, Bobby V, Marques Houston, and Jon B. and many others. Gifted also produced the hit song Good Luck Charm for R&B Group Jagged Edge which not only went gold but was nominated for a Soul Train Award in the category of Best R&B Single by a Band, Duo or Group. Gifted has also written and produced hits for Ne-Yo, Bel Biv Devoe and many others. Gifted is a native of Las Vegas, Nevada, the entertainment mecca known for Casinos, Nightlife and Bright Lights.

Streaming platforms links: https://empire.ffm.to/cantsleep
SoundCloud:
YouTube link: https://www.youtube.com/channel/UCotrAyIRP6aS4HClGUKih1g
SuperPhone call to action link:https://iamgift3d.superphone.io