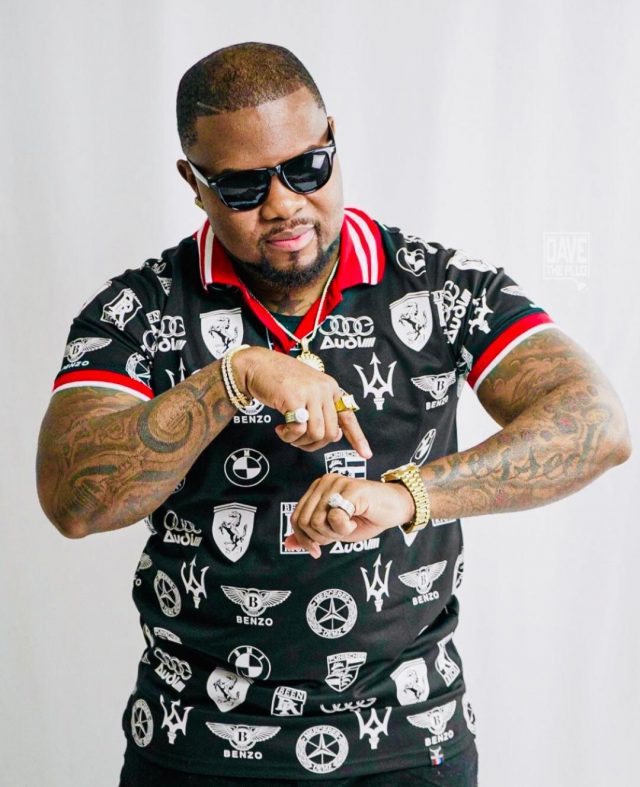 DubCNN recently caught up with rapidly rising hip-hop super producer/artist, DJ Da Don for an exclusive interview! Born Djoudrjy Chiffra, and originating in Haiti, DJ Da Don relocated to the musically and culturally diverse melting pot known as Miami, Florida as a youth. He later started working on his own music, crafting beats for Chicago rappers like Chief Keef, Lil' Durk, and more. Check the interview below and tap in with DJ Da Don via social media!
Interview Conducted April 2020 by West Haven Blast
DubCNN: checking in with rising star, hip-hip artist and producer, DJ Da Don. What's good fam? What's good!
DJ Da Don: I've been trying to quarantine like the rest of the world. In the process, I'm perfecting my craft. In spite of everything going on, GOD is still good and I'm feeling blessed!
DubCNN: Fans may recognize your name from producer credits on songs from Moneybagg Yo, NBA Youngboy, and Tee Grizzley and more. Can you tell the fans a little more about some of the projects you have worked on? And how these opportunities came about?
DJ Da Don: I've also had the opportunity to produce tracks for Kash Doll, Fabolous, and Lil Durk. I was working with Helluva, a producer from Detroit,and he introduced me to Kash. We had already collaborated to produce one of the tracks on Brat Mail, so meeting her in person was definitely an honor. Being from Miami, I was able to collaborate with Southside and we produced a track that featured on Fabolous' Coldest Winter Ever. As far as Durk, we had already built a rapport from when I was touring with Chief Keef in 2013.
DubCNN: What initially inspired you to pursue a career in music? And how your relationship with Young Chop help to inspire you?
DJ Da Don: I always loved music. When I had the opportunity to tour with Chief Keef, Lil Durk, and Lil Reese, I was able to see Chop in action. That's when I fell in love with production. I was like a sponge trying to soak up everything. One day, Chop showed me the ropes and it was history in the making. I've been hooked ever since.
DubCNN: Ok DJ. Now, you are of Haitian descent and moved to Miami, Florida at a young age. It is also said that you began running around with the likes of Chief Keef, Lil Reese and others. Can you tell us about your experience growing up Haiti and Miami? And also, how the cultures intertwine?
DJ Da Don: I moved to Miami when I was 2, so I don't have any memories about growing up in Haiti. Yet, I'm still heavily grounded in my culture. Although my mother died when I was young, a lot of my family moved to Miami. They never lost their roots. Growing up in Miami and being around so many other Haitians made me feel proud of who I was. The city taught me the G-Code, the art of hustling, and how to be a stand-up individual. All of these things, are important in the Haitian culture as well.
DubCNN: In your opinion, how has West Coast hip-hop influenced other regions of the contrary?
DJ Da Don: The West Coast showed us the gangsta part of hip hop. Hip Hop, emerged from the streets, but the West Coast allowed us to see that everyday struggle of being a black man. I think that allowed so many other people to fall in love with music because they were able to identify with that aspect of it.
DubCNN: What is your opinion on the state of hip-hop today? Especially with the world and a state of emergency with the current pandemic.
DJ Da Don: I think the state of hip hop has evolved. It has given so many people a voice. That can be seen in a good way and a bad way. There are a lot of people who can actually rap, but the industry places more attention on who can make a hit song. Being a producer, I'm always looking for a hit. I'm guilty in that sense too. However, I can't deny that the music is a little different than what it was when I was younger. Whatever state hip-hop is in, it's here to stay. It will continue to move people in one way or another and I just want to be a part of it.
DubCNN: Do you think the music game will ever be the same? And what things will you do personally to adapt and change with the times?
DJ Da Don: I think the music scene will continue to shift. Different generations are inspired by music in different ways. There's no telling how it might develop in the next 10-20 years. The only thing I can do is stay in tune. You have to adapt to stay relevant in this game. Yet, you have to be true to yourself and the classic sound that speaks to you, so it's all about finding a balance.
DubCNN: What upcoming projects can we expect from you in 2020?
DJ Da Don: I'm currently working on tracks with Plies, Blac Youngsta, and Freddie Gibbs.
DubCNN: What differentiates DJ Da Don as a rapper in contrast to a producer?
DJ Da Don: I really don't rap. I produced a few tracks, where you probably saw me listed as the artist. That was just me being on my DJ Khaled. LOL! I only produce.
DubCNN: Dope! What separates you from other producers in the game fam?
DJ Da Don: Like many producers, I make music for the streets. I can't really say that I'm different. I just have certain attributes that define who I am. That in general, has an impact on how I do business. I like to build relationships with my artists. If you ever read any of my other interviews, you know that's extremely important to me. Overall, it creates a positive vibe. Because so many people recognize the realness in me, they rock with me. I'm just out here, trying to make my own path in this industry.
DubCNN: Who are your top 5 MC's of all-time? And which artists have been major influences on your music? I will have to say:
DJ Da Don: Tupac, Gucci, Jeezy, Yo Gotti, and Drake. However, Jeezy had the biggest influence on me. His production was crazy! He's part of the reason why I gravitate to "trap music."
DubCNN: Who are your top 5 producers of all time and how have they influenced your production style?
DJ Da Don: My top 5 producers are Dr. Dre, Timbaland, Zaytoven, Shawty Redd, and Lex Luger. They all showed me how to develop my own sound. Yet, Zaytoven taught me the importance of interacting with your artist. Just seeing how him and Gucci come up together was inspirational for me.
DubCNN: Where can fans find you via Social Media?
DJ Da Don: On IG, hit me at djdadon_on_da_track. On Facebook, you can find me at djda don. On snapchat and Twitter, you can reach me djdadon300.
DubCNN: Thanks bro, from DubCNN! Anything you would like to add? The floor is yours.
DJ Da Don: I'm hungry!  You will definitely hear more about Dj Da Don!  I also work with local artists, so if you're aspiring to get in the industry, hit me up!  Thanks, DubCNN for the opportunity!  It's been a pleasure!
Follow DJ Da Don on Social Media: