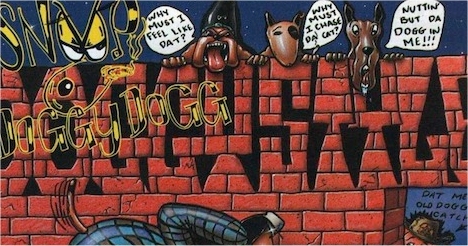 After the superb success of Dr. Dre's "The Chronic", the whole music world was impatiently waiting for the release of newcomer Snoop Doggy Dogg's Solo album.
Snoop, who was on "The Chronic" nearly as much as the Doc himself, had brought a new sound to the game. His smooth sing-sang rapping had the listener fascinated.
The mixture between Gangsta lyrics and a laid back flow made Snoop Doggy Dogg radio friendly. Snoop Dogg quickly became the most famous star in rap, partially because of his drawled, laconic rhyming and partially because the violence that his lyrics implied seemed real, especially after he was arrested on charges of being a murder accomplice. The arrest certainly strengthened his myth, and it helped his debut album, 1993's Doggystyle, become the first debut album to enter the charts at number one.
Doggystyle went platinum in no time, and is now considered as one of the best, if not THE best rap album in history. Before the release of the album, music experts were saying that the expectations of the public would be impossible to reach. The album got out, and surpassed them. Supported by his Dogg Pound homies on the mic and with Dre handling the production, nothing could go wrong. With this review, I intend to show why this album is so amazing.
Release Date: November 23, 1993
Label: Death Row Records
Rating: 6/5 (Yes, that is a 6!)
Reviewer: Nima Etminan (in 2002)






…………………..………………………………………………………….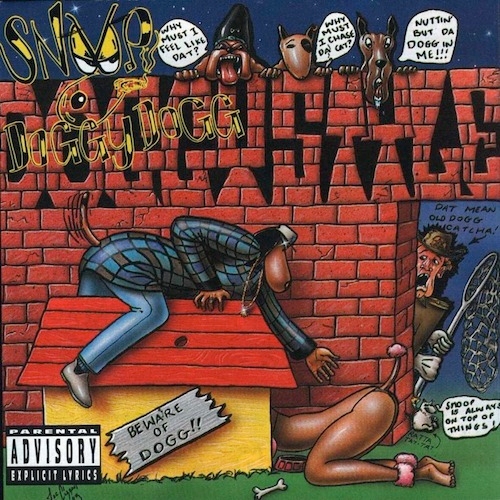 …………………..…………………………………………………………. 
1. Bathtub (Intro)
– This is the intro of the album. At first you hear Snoop in the bathtub with some girls, when the doorbell rings. It's his friend Warren G and they start talking. They took a conversation from the movie "Superfly" (1972) and he basically tells Warren G that he wants to get out of the rap business. Warren then replies that he got everything he wants, he's living the American Dream and that he should keep up. In the background, we hear Curtis Mayfields "Give Me Your Love". After their conversations, Dre takes a puff of a joint and the now infamous line "Like We Always Do About This Time" announces the beginning of the album. Nice Intro, no rating needed though.
2. G-Funk Intro
– This is the musical introduction to Doggystyle. Dr. Dre really laid down an incredible beat right here. A very deep bass-line, a hard snare drum and some keys and horns here and there to give the track a nice feel. Dre used a sample from Funkadelic's "Knee Deep" from 1979 to make it fonky! Like on "The Chronic", it's not the main artist who does the first verse. This time, after the little talking intro, The Lady Of Rage kicks in with a furious verse. The energy she brings to the mic is matched by no other female, or even male MC. She busts some real gangsta rhymes and has an impressive flow. She has some incredible metaphors and wordplay during her rap. ("Um you can play the left, cause it ain't no right in me/Out the picture out the frame out the box I knock 'em all"). It's clear that after the listener had heard her aggressive flow on the Chronic, he will remember her while listening to the Chronic, and will be even more impressed by her after this masterpiece of a verse.
Snoop has a couple of bars at the end of the intro and kind of welcomes everybody to "Doggystyle". Again we have a guy talking as an outro. This is the PERFECT way to start the album and after this track you really are curious to hear the rest of it. Rage did an awesome job. Classic. 5/5

3. Gin'N'Juice – The little Intro to this track lets us know that there was a party and that some dude has to piss, cause he drank too much Tanqueray. And with the sound of a pissing guy, the beat kicks in. When you hear it for the first time you're just stunned. It's a "warm" beat. A very deep and outstanding bass, deep keys and the G-Funk whistle! The drums match the rest perfectly and this is THE beat! Its perfect. Plus Dre used a couple of Samples, as always. George McRaie's "I Get Lifted", from 1974 and Slave's "Watchin' You" (1980). The beat alone makes this track a classic. And when Snoop starts rapping, its as if the world couldn't get any better. His smooth delivery and outstanding storytelling skills are relevant for this track. He tells "A Day In The Life Of Snoop Doggy Dogg". It's a perfect party tune :
"So we gone smoke an ounce to this, g'z up hoes down while you muthafuckas bounce to this".
Today this line is a classic and has been reused several times. The chorus is just as good, and Snoops second verse tops his first one. His flow is perfect, flawless. While listening to this, if you close your eyes, you can see yourself in sunny LA rolling in a car. Did I say his second verse was good? Well his third one is his best one: "Later on that day, My homey Dr. Dre came through, with a gang of Tanqueray, And a fat ass J, of some bubonic chronic that made me choke, Shit, this ain't no joke". And after this verse, the chorus repeats itself till the end of the track. The end of a timeless classic, a hiphop legend. 5/5

4. Tha Shiznit – Again we have an intro to the track, one of the legendary Wballz 187.4 Radio skits. He introduces the next track and the beat starts. Dre really did a great job. The drums are very hard-hitting and bass is deep. We have very low and consistent keys throughout the hole track, that you don't even notice if you don't pay attention, but they are important for the feel. And just before Snoops verse starts, a great Flute melody starts. It gives you chills. This is one example to show Dre's incredible talent.
Now to the rapping. Something you always gotta remember when you listen to this track is that its a FREESTYLE. Snoop came into the studio and started busting a freestyle and this track is the result. As always Snoop raps with his laid back flow and hungry sounding style. He doesn't go lyrically deep, this is just a chilling relaxing track. There is no real chorus, it's just a voice going "dadadadada". Doggy Dogg's second verse is way better, he speeds up a bit and shines as always. Parts like the beginning of his second part are incredible :
"Boy it's gettin hot, yes indeed it is, Snoop Dogg on the mic i'm about as crazy as Biz Markie, spark the, chronic bud real quick, And let me get into some fly gangsta shit".
He even does a little bit of singing. His flow is unbelievable. I have heard NO other rapper flow like this. He kicks in another verse, the longest one. He got some dope wordplay and its the best of three. After hearing this, I thought "It cant get any better than this". Snoop ends this perfect track again with his Gz Up Hoes Down line. After the first time, I was speechless, and I guess same goes for all the other listeners. 5/5
5. Lodi Dodi – People who listened to the old school rap shit will immediately recognize this title. It's Slick Rick's classic, that Snoop remade here.

Again, we hear a small intro with Dr. Dre & Daz Dillinger talking, at some party. And they drop a diss to Eazy-E too, dissing him over his HIV virus (which at the time the album was released was only a rumour, and NOT confirmed).
And when the track starts, Snoop immediately holla's at Slick Rick, and makes clear that this is NOT his song, he is just re-rapping this timeless classic. Dre used a very very deep, melodical bass and some high pitched keys. The drums basically just lead the rhythm, but aren't too relevant. The speed is slower than the typical Dre beat, and Snoop starts off slowly too.
"Lodi Dodi, we likes to party, we don't cause trouble and we don't bother nobody".
His flow is consistent, and you can clearly hear he puts his heart into this. He basically took over Slick Rick's lyrics, but he switches and changed a couple of things, to fit it to the "Doggy Dogg". Although he didn't write the lyrics, his storytelling skills stand out. He makes you listen to his every word and follow what he's sayin'. And in a way, this IS, like Gin N Juice, a day in the life of Snoop Doggy Dogg, but this time its from the morning on, whereas Gin N Juice was focused on the night. Throughout the track, Dr. Dre shows some incredible keys and melodies that start playing' while Nancy Fletcher sings (A Vocal sample of Rose Royces "Ohh Boy" from 1977 was used here). And it's small specials like these melodies that keep you bump this track, because each time, you discover a new feature.
So to cut a long story short, this track shows us the incredible skills of Snoop as a storyteller, mixed with the genius of Dr. Dre, which ends up creating a classic track. Plus it shows that Snoop can ride any beat and flow at any speed. Timeless. 5/5

6. Murder Was The Case – Snoop, who had a murder charge while he was recording Doggystyle, made this track, and in its intro (a part of the Mini-Movie "Murder Was The Case") is supposed to show WHY snoop is innocent. It's about a couple of guys rolling up next to Snoop and just shooting him down. The actual story was that this dude who shot him wanted revenge cause Snoop had took his girlfriend. The video of this track shows this very well.
Anyway, on to the actual song. During the beginning, we can hear Mista Grimm's "Indo Smoke" and after the shooting, the music starts. Dr. Dre used a very dominant melody, consisting of deep organ keys. The Drums are very important, and at each Snare hit, you hear a gun shot. During the chorus, Dre uses a very high pitched whistle. All these elements put together turn out to be a very hard beat. Perfect for a hungry rapping Snoop Doggy Dogg. Like on Lodi Dodi, Snoop basically tells us a story. And he manages this incredibly. His flow is flawless and you have the feeling he is actually standing in front of you and talking to you :
"Late night I hear toothbrushes scrapin on the floor, Niggaz gettin they shanks, just in case the war, pops off, Cuz you can't tell what's next, My little homey Baby Boo took a pencil in his neck".
Dr. Dre really laced an incredible beat (he later remixed this track for the Murder Was The Case soundtrack, which many people like more, but in my opinion, this version is just RAW.). Another good thing about this track is that it actually was affecting Snoop's real life, so he took this more to heart and rapped his ass off.
Another classic. 5/5

7. Serial Killa – This is the first time we are going to hear the Dogg Pound clique on Doggystyle. But first I'd like to say a couple of things about the productions. "Sixteen Million Ways To Die, Choose One". This short statement leads to the track. Dr. Dre sampled "Funky Worm", by the Ohio Players and used it really well. We have hard hitting drums, a hard bass-line and a synthed out whistle goin' crazy. It gives the track an oriental flair. Another top notch production. It's a warm beat, specially because of the piano accords Dre plays when Kurupt starts his verse.
So on to Kurupt. The Kingpin has a first, short verse, but a verse that immediately shows what we can expect from him. He has a fast speed and an AGGRESSIVE way of rapping and flow. Directly after Kurupt follows up Dat Nigga Daz. He may not be able to match Kurupt's rap, but he still drops some heat, and does a couple lines of singing too. His flow is off the hook.
"It's an everyday thang, to gangbang, Make that twist, don't be a bitch, let these niggaz know, What's up witchu I represent the Pound and Death Row".
Daz's verse is longer, and i'm really feelin' his flow. RBX handles the very simple chorus "Fuckin' Wit The Pound Is Suicide". That's basically the hole message of the track. But now comes the Doggy Dogg himself to give this track the special touch. He speeds up from the previous track and he sounds aggressive. His flow is flawless and top notch as usual. What a verse! After Snoop RBX takes the Mic to drop a verse for himself too. His voice may not sound as good to everybody, but he defiantly drops some heat. His flow is really good and he gives this a "gangsta" touch. And here comes another classic. 5/5

8. Who Am I? (What's My Name?) – This is without a doubt Snoop's most famous track ever. Every Metal, Rock, Pop, Country or Techno fan has heard this . This was THE single that made the album blow up. And Dre used a hole lot of sample to put together this cut. He used the best of the best P-Funk tracks. First we got George Clintons super hit from 1982 "Atomic Dog", then Funkadelic's "Not Just (Knee Deep)" from 1979, "Give Up The Funk" by Parliament, Tom Brown's "Funkin' For Jamaica", and last but not least "Pack Of Lies" by The Counts. So as you see this is a grip of famous tracks he used. And the result of all this is a funky g-funk beat, like no other. We can hear the talkbox used too. Snoop starts with a first verse. This is Snoop at his best, untouchable.
"From the depth of the Sea back to the block Snoop Doggy Dogg funky as the the the Doc, went solo on that ass but its still the same Long Beach is the stop where I served my cane."
At the end of Snoops verse, Dre drops a line too. The Chorus is very special. It's one of those choruses that you hear ONCE, and you won't forget it. It sticks in your head. Probably because its so catchy and simple. "SNOOP DOGGY DOGG". Thats it. Snoop doesn't do any storytelling or go lyrically deep or anything, he drops some g'd up lyrics
"She want the nigga with the biggest nuts, and guess what, he is I and I am him, slim with the tilted brim, Whats My Motherfuckin' Name?"
He spits fire combined with an awesome flow. This is THE perfect single. I mean it's built to sell! Dre has a very deep bass that goes over to a melody at times. There really isn't much more to say about this. After "Nuthin But A G Thang" this was the next LEGENDARY track. 5/5

9. For All My Niggaz And Bitchez – For this song, Snoop passes the Mic to Tha Dogg Pound and The Lyrical Murderer Rage again, and doesn't rap himself. On another note, this is track is sample-free, so Dr. Dre put this together without using other songs. At first we hear the keys playing' and Dre's way to use the keyboard is perfect. And as soon as the beat begins, Kurupt starts rappin'. His flow is a bit slower at first, but he then speeds up and lets us know he's a rapper who can ride any type of beat.
"So slow your roll, I'm In Control like Janet, The loc-est twenty-one year old nigga that's on this planet".
Then we go over into the chorus and the trademark of G-Funk, the Whistle takes over! "So all my bitches and my niggaz and my niggaz and my bitches, Wave your motherfuckin hands in the air, And if you don't give a shit, Like we don't give a shit, Wave your motherfuckin fingers in the air" A simple, yet effective chorus, with as much swearing as possible!
Now Dat Nigga Daz grabs the microphone. Damn, this is Daz on top of his game. His flow isn't aggressive or anything, but he just lays his shit down so nice that you love it. In my opinion this verse over shined Kurupts first verse. He's so smooth. He reps the Pound to the fullest. But whoever thought that was it for Kurupt, WRONG! The Kingpin comes back and THIS is the Kurupt we wanna see! He straight rips it, with a first short part but its Blazin'! But that wasn't all, he grabs the mic once more and now it couldn't get any better. An awesome Gfunk beat, Tha Doggpound ripping it up! I mean what could make this any better….The Lady Of Rage. Just after Kurupt, the best female MC in the game steps up and gives this perfect track the final touch with her short performance. But wait, you thought we wouldn't hear the D-o-double-G? Well he doesn't rap, but he talks at the end of the track and this is how it ends. Wow. 5/5

10. Ain't No Fun (If The Homies Can't Have None) – The infamous W-Ballz Skit have another episode at the beginning of this track. DJ Eazy Dick lets us know we're gone be hearing a "ladies" track. And by the smooth, bass oriented beat with the whining keys, you know its gone be a great track. Dre didn't use any samples for his beat, but "Lyn Collins'" track called Think (About It) from the 70's has been used for vocal samples.
On to the track. In 1993, Nate Dogg wasn't too well known yet, we had only heard him at the end of a track on Dre's "Chronic". Well now he shows us why today he's not only a hook master, but he's also able to make classic solo songs! The verse he sings here is my favorite Nate appearance ever, and problem the reason why this track is my favorite from the entire album.
"When I Met You Last Nate Baby, Before You Opened Up Your Gap, I Had A Respect FOr Your Lady, But Now I Take It All Back, Coz You Gave Me All You Pussyyy, And You Even Licked My Balls".
All this, sang by his smooth and laid back, but still very dominant and strong voice. After his part, Kurupt raps his verse, and this is Kurupts best verse on the album. He straight rips the mic to shreds and lets other rappers look like fools. He only raps about "Not Lovin Bitches" and "Fucking" but the way he raps is great. But the show is not over! After Nate handles the chorus, Snoop Doggy Dogg busts a verse. Damn these were the good days, where every verse was a materpiece, if not classic. He puts it down and showcasts his skills to the fullest. The combo Snoop/DP is incredible. And after the DOGG, Warren G spits some shit too and ends the track. And four other minutes of joy for your ears. 5/5

11. Doggy Dogg World – At the beginning of this track, we have the "Chronic Break", which basically consists of Snoop havin' a lil smoke break and dropping some pimp knowledge. After that little Skit, the probably smoothest production of the album blesses us. It's really fascinating to see how Dre hypnotizes us to the music with his beats. It's like they are magic, they give you a special feeling. The deep bass-line, the smooth drums and these keys giving the hole thing a melody is just a perfect mixture. And then when Snoop drops his verse, the magic is complete. His laid back voice, combined with his sing-song rapping and this relaxed beat make outta this track a perfect chilling tune. His verse is fire. And guess who we got on the hook? The legendary Dramatics! They drop a perfectly smooth hook and the two villains from the D.P.G. perform now. Kurupt goes first and laces an awesome verse. His flow has no flaws and he rides the beat nicely. He isn't specially aggressive or fast, he simply lays it down and does everything right. His verse is longer than Snoops, and I gotta say that he outshines him. Then Daz spits some knowledge too, and he does his thang.
"Now as the Pound break it down with the gangsta funk, I can see and I can tell that's what the fuck you want, So I blaze up the chronic, so I can get high,I promise I'll smoke chronic till the day that I die".
I really like the way Dat Nigga Daz flowed back then, it was real laid back and his delivery was tight. The last minute is just the Dramatics doin' the chorus and thats it. And one more classic. 5/5

12. Gz & Hustlaz – We have another Skit before the track. This is the "What do you wanna be when you grow up" skit, where the teacher asks the children about their plans for the future. Besides the "Fireman" and "Police Officer" answers, we have Snoop Doggy Dogg, played by the then 6 year old Lil Bow Wow tellin us he wants to be a "muthafuckin hustla". Just after that, the actual track starts. Doc Dre sampled "Haboglabotribin" by Bernard Wright, well actually he didn't "sample", he straight took the originals beat like he did for "Nuthin But A G Thang" or later on he did with Snoop Dogg's intro of Tha Last Meal. He changed very little to the track, maybe added a little thing here and there but the difference is very little. So I can't really say Dr. Dre produced it. Anyway back the track. First Snoop drops the chorus by himself and then he spits his first verse. He rips it and has some incredible rhymes. "So check it, I get busy, I make your head dizzy, I blow up your mouth like I was Dizzy Gillespie, I'm crazy, you can't phase me, I'm the S oh yes, I'm fresh, I don't fuck with the stress".
This verse is Straight Dope. And the same thing goes for the second one. He just blasts his rhymes and you can hear his hunger as he raps. It's simply stunning. It's one of those tracks, that will get you awake and gives you energy, even with the worst hangover! He drops a third verse that goes right next to the first two. This track is a classic, Snoop rapped for nearly four minutes without a break. Flawless. 5/5
13. Pump Pump – The "U Betta Recognize" Skit featuring Sam Sneed and Snoop Doggy Dogg introduces us to "Pump Pump". It's some straight gangsta shit. Snoop is showin' he doesn't hesitate to kill anyone who steps to him (is this true?). After the skit, the beat blasts in. This is very untypical for a Dr. Dre production. It's more of a 80s Gangsta Rap track. It's got a fast speed and it isn't anything near G-Funk. Another sample-free production. But it's so hot. It's just GANGSTA. Snoop comes in with a bang and blasts his rhymes. His verse is fast and fire. The chorus is simple but effective
"Blam blam, blam to dem all. Listen to the shots from my nigga Doggy Dogg (pump pump)"
His second verse outshines his first one though and he comes off real tight. He speeds up and I just love it when he comes with that "follow me" stuff. But what's up now? Who's this? It's Lil Malik aka Lil Hersey Loc. He sounds really young but the energy he comes with blows you away. This shit is off the hook. He rips the mic. No other word for it. He sounds so hungry, this is another raw diamond from the hood. How the hell is it possible that Malik hasnt had a major release yet? He needs to blow up. And after Mailk's verse, the beat plays for a bit till the end. Damn, the energy the artists brought to the table here was just blazin'. 5/5
And for most people who own this album, this is the way the album "Doggystyle" ends. Well ya'll should know a few privileged who had the opportunity to pick up the album as soon as it came out also have this:
14. Gz Up Hoes Down – This track was pressed on the first copies and later on taken off because of sample problems. This sample is Issac Hayes with "Look Of Love". Well here is the review of this track. It has a very funk oriented beat, with dominant horns, the drums are pretty light and a deep bass-line. Also important are the keys and the flute that give the track its melody. Snoop spits some very laid back lyrics over this smooth beat. But laid back doesn't mean slow or bored, he still sounds hungry and his flow is absolutely flawless. With its two minutes and twenty seconds, it's a pretty short track, but Snoop drops two tight verses. "My side, as I mob to the beach, on a mission, and I'm fishin, for my DJ Warren G, now I look for the bud's sack, and see where my loves at, on the lake where the doves at".
The chorus is sang and is funky. His second verse is banging too. He ends the track with some talkin', and the last words of the album is "Peace, Gz Up Hoez Down", which bascially tells us the whole message of the album in a couple words. Another undeniable classic 5/5
Now about the album as a whole. As the Rolling Stone said, "
"Doggystyle speeds through 55 minutes of constant talk as if on a suicide hot line…."
which characterizes the album perfectly. This record was what I would call a complete album. The beats were more than great, each verse of the album was a highlight and masterpiece, everybody who appeared showed his best, and most important of all, Snoop DOGGY Dogg ripped every track. He's able to turn any track into a good track just by adding a couple of words. Snoops style was unique at that time, and still is. And what actually made this album what it was, was the incredible chemistry between Dr. Dre's thick, tense beats and Snoops cool, lazy drawl.
A point that shows what this album represents, is that after now nearly ten years since the release of the album, people are still fiending for two "Doggystyle leftovers", the track "Doggystyle" featuring George Clinton and "The Next Episode" featuring Dr. Dre, the original version of the one that was later released on Dr. Dre's "2001". The Doggystyle sound is something special, it's the definition of G-Funk Rap, and this album had everything. It had the dope beats, the blazin' raps, its a perfect album and it is more than just a classic, its in my opinion the best rap album every released, and alot of people feel the same way. Overall rating:

………………………………………………………………………………
The views expressed here are those of the authors and not
necessarily those of Dubcnn as an organisation.
………………………………………………………………………………