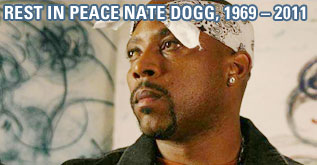 Big shouts out to DJ Steve1der out of Los Angeles for the following. As you know, Hip-Hop legend and G-Funk pioneer Nate Dogg suffered a second stroke recently and has been in the hospital. Nate is breathing on his own again, but last we heard he was still being fed through a tube.
While we've been praying for Nate and wishing him a speedy recovery, we have received a tribute mix, which we've decided to call "G-Funk For life", put together by DJ Steve1der, which compiles some of Nate Dogg's greatest moments throughout his illustrious career in a 70 minute mix.
We have the mix available for you to listen to or download, make sure to burn this one and give it out to your friends, show your support to Nate Dogg and throw in some of the classics, reminisce of the old days when the G-Funk Era was in full effect.
DJ Steve1der & Dubcnn Presents: "The Best Of Nate Dogg" (70min Mix)

[raw]
[/raw]
Shouts out to DJ Steve1der for his work on this, check him out on MySpace by clicking here. Get well soon Nate!
Since this update, on March 16th 2011, Nate Dogg tragically passed away aged 41 – since then we've brought you the Remembering Nate Dogg section of Dubcnn with exclusive interviews and media.