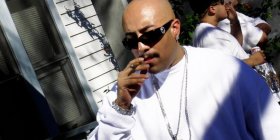 Repect game and get to know Mr. Capone – E. He is not stranger to
the West Coast rap scene and he has been putting it down for years. His Hi
Power Entertainment churns out consistent product and according to Mr.
Capone – E, he has only just begun.
Dubcnn.com and Javon caught up with the West Coast representer and talked
about his business savvy, the lasting impression he leaves on fans, his new
project Tears of a Soldier and how he has embraced the power of the social
media.
Get familiar and enjoy. As always let your thoughts be known at
javon@dubcnn.com. Peace.
………………………………………………………………………………
Interview was done November 2011
Questions Asked By: Javon Adams
Listen To The Interview Audio Below or

Download Here

…………………………………………………………………………………
Related Media
…………………………………………………………………………………
Mr Capone-E Interview
A Dubcnn Exclusive
By: Javon Adams
………………………………………………………………………………

Interview Audio


Dubcnn: Dubcnn, Javon here with a legend in the world of Hip Hop and Latin
Hip Hop and all of those things…Mr. Capone – E. How are you doing man?
Mr. Capone-E: How are you doin' homeboy? I'm chillin' like a
villain, you know. California. Winter time. Sunny Day. Doing good.
Dubcnn: That's what's up. I want to definitely get into your project
that just recently released but I want to talk a little bit about your
business savvy. You own your own label, Hi Power and…you've had 11 years,
about 11 years in the game. Talk about your business savvy and how that has
led to your longevity.

Mr. Capone-E: Like you say, I'm independent and I learned from up coming
artists…so coming up in the game I didn't have it like most of these rappers
that have a record deal or record contract. I just had to come from the
streets and bang it out the trunk and game recognizes game so I started
learning more and more. (Eventually) got a distribution…at the beginning it
was distributed through Thump/Universal. That got my music out there
everywhere and the CDs were selling good.
After I saw that I could do good I thought I would help out some of the
homies in the hood. Brought them on the team and (released) their stuff and
found some quality artists out there and put it down. Next thing you know we
were selling like crazy. I got off of my deal with Thump and got a direct
distribution deal and history she wrote, you know.
Started building the label catalog with artists like Criminal Lady Pinks and
venturing out with artists like Bone Thugs and Harmony and Lil' Flip…we just
kept the ball rolling and connecting with everybody from the West Coast to
the South to the East and it's been all good. We've been independently
killin' 'em.
Dubcnn: Speaking of that, when you mentioned Bone Thugs and Lil'
Flip…I would imagine you listened to Bone Thugs and Lil' Flip before signing
them and being involved with them on a business level…how is that to work
with somebody, not growing up, but you listened in terms of being a fan and
then having to get down to the brass tax and do business deal with somebody.
Was that difficult?

Mr. Capone-E: You know what, it's pretty crazy because when it first
happened it was like, 'Is it really going down?' But at the end of the day
we just kept grinding and doing our thing. Being in the studio with some
legends…you learn a little something about how they conduct their life
because they have been there and done that. They have been legends and they
have seen the big stream and this and that. Doing stuff with them was a good
feeling because that let us know that we are doing something right. We have
enough power to do music with celebs and not just Bone Thug (but) Lil' Flip
who was an underground legend in Texas and the list goes on with people that
he has worked with. It was just a good blessing and we are really focused on
our music and I was determined to keep grinding so at the end of the day it
was a great feeling. It was perfect and it worked out good. After we got
that connection we learned a lot and just kept growing, ya know.
Dubcnn: Right. One of the things…I was doing a bit of research and
in an interview you mentioned that you've influenced a lot of people whether
it has been for people to do music or graphics or whatever it might be. Can
you share a story that somebody has told you on how you have influenced them
that was the most unique or the most touching since you have been doing what
you've doing in terms of grinding and putting out quality music.

Mr. Capone-E: There's been a lot of that man. I've been doing shows and
running into artists that come up to me and say they're trying to rap,
trying to get out of the hood, trying to do my music thing and how I'm an
influence. (They say), "I got my CD out and I'm out there hustling and
grinding. I'm trying to push my stuff and you got me going." And I saw
another guy that told me he was doing graphics and learning how to put CD
covers…big shout to one of my homies out there in Texas, Snoopy. He did some
graphics for me, my website and myspace. I mean I didn't know how to do it
and he learned a trade and he did it. I have another guy…there's so many
guys that just started from graphics, that do music and I feel like, 'Whoa,
I did this? Then we call all do this.' Just like my label, it has a bunch of
homies from the streets. It was just a thing, like, this is the meal ticket.
I was kind of an inspiration to some of these youngsters that were coming
up.
You look at the whole game in general and…not to diss fools but at the end
of the day a lot of fools are just waiting to see what Capone–E is doing so
they can do it like him. But it is a good thing regardless. At the end of
the day they are trying to make (something) positive but everyone just has
to go in their own direction and be themselves. And at the end of the day
it's all positive. The West Coast has been neglected with a lot of the music
that we have…from the media side it's really hitting the streets hard and
people are buying it and people are doing good. It's a blessing in disguise,
ya know.
Dubcnn: I hear you. Now, I want to talk about…you mentioned being
out there grinding and I want to talk about your presence in social media.
But before I get to that, you mentioned West Coast. Being Hispanic do you
get tired of the Chicano Rap or the Latin Hip Hop or Gangsta Rap or West
Coast…do you get tired of those labels? Or do you embrace those labels?

Mr. Capone-E: I don't really…I'm not into the Latin scene, I'm not Latin
so I'm a South Side, I'm raised in the varrio. I'm from a hood out here so I
was raised in that mentality. We're doing rap at the end of the day. We
might have a different style…like everybody has a different style. Some
people have a little different swag, style or steelo. I mean we have a
different steelo in our kind of music. It reflects West Coast in general
from L.A., down San Diego and it spreads everywhere with that West Coast
influence that I do is what a lot of live in the West Coast. It's been
neglected…I don't like the name like, 'Yo, it's Latin Rap or Chicano Rap'
even if they call it Gangsta Rap, whatever…we're West Coast, we're
universal. I've been in Germany and the UK and guess what? Over there they
are doing the same thing we're doing, it's just a different style and swag.
Dubcnn: I hear you. I like that. I like the way you answered that
man. I want to talk a little about your presence. How have you embraced
technology? Because especially when you have your video,
I Did
You Wrong and it is so highly viewed on Youtube. Being able to have that
presence and that wide reach…how do you embrace technology to help you?
Mr. Capone-E: It's like you gotta be up on the game in technology. That was
one of my weaknesses for a long time. Like, I had a myspace page and I
didn't even know how to run it. Next thing you know, I open it up and
someone just opened it up for me and I looked at it and there were 200,000
whatever followers and all that. I'm like, "huh?" They said, "You gotta use
this to your advantage." So I started messing around with it and sending out
these little bulletins to let people know what's up. And the next thing
people started booking me for shows. And I didn't even know how to reply
back to them, you know what I'm sayin'?
I'm not gonna lie, that myspace made money. I was like, 'Whoa, I'm sleepin'
on this.' And then we just barely started the Facebook about a year ago…and
we were probably late again. And that has already started to reach 100,000
likes on that page. The social media is strong. You gotta be up on game.
Another weakness we had was on the Youtube channel. We barely started a
youtube channel this year. So all of these last 11 years there was a guy
that used to put up all of our videos and I think he had 6 million views and
then somehow…I don't know the guy, I don't own the account and he lost the
account and ended up disappearing. He ends up closing the account and he
ended up putting someone else's videos up there…and boom, there goes all of
our videos off of the internet. I was like, damn because we lost all those
views.
So I learned how to start the youtube channel…it barely started this year
and only five months in we have 1.3 million (views) so now we have 11,000
subscribers and we are moving on up. But if we had started from the gate we
would have done much better. So all the new artists coming out they need to
get their channel going and get the media social stuff going because if you
wait a year or a month then you are falling behind and everybody is stepping
ahead.
Dubcnn: I hear you. The most recent project is Tears of a Soldier,
right?

Mr. Capone-E: Yeah. Tears of a Soldier is my newest project that I dropped.
Basically it is just a reflection of all my time as a soldier in this rap
game. All the tears…the good and bad because at the end of the day you're
getting the good and the bad regardless. It was kind of an outlet. I felt
like I had to bring out Tears of a soldier into all of this rough stuff and
all of this bull crap in the rap game. It's a soldier kind of letting his
tears out, ya know what I'm sayin'.
Dubcnn: I hear you. Nothing wrong with that. So let folks know how
they can stay in tune…how they can pick up the album and where they can
go…all that good stuff. Because one of the cool things that I see and I
gotta give you kudos in terms of distribution and whatnot because you now
have distribution in 7-11s in Southern California right?

Mr. Capone-E: Yeah. Well our music is up in 7-11 and we always go real good
at 7-11 when we put our product in there. You know, all the homies are in
the hood and they go in there to get their 40 oz. or something at 7-11 and
our CD is moving off the shelf so they are taking a lot of our catalog. They
took a lot of our pieces. So our music is all distributed through 7-11. They
keep asking for more…different titles and it's a good thing. That just shows
you that our music is really hitting the people and its really moving units
and it's like independently we're killing the game. It's all because of the
people out there that are supporting and keeping it real back. So it's all
love. Hip Hop in general, ya know.
Dubcnn: I feel you. So let 'em know…any last words for Dubcnn? Let
them know how they can stay in touch with Mr. Capone-R.
Mr. Capone-E: You guys thought I've been in it for a minute…sh*t, I've just
started. This is Mr. Capone-E, you gotta check me out on
Facebook.
Check out our website and in 2012 we are coming in with the next phase of Hi
Power. The next level. We have Ray J, Twista and all these radio jams…West
Coast mixing it up worldwide. Hi Power…and Dubcnn, one of the OGs of the
West Coast and holding the West Coast down so keep checking Dubcnn. Because
they got the West Coast Connection and the West Coast on Lock.