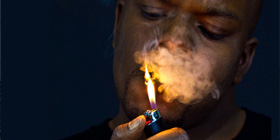 Last month we introduced you to Java Starr who many of you will know as a member of Devin The Dude's Coughee Brothaz crew who has spent recent years touring heavily with Devin and made multiple appearances on Devin & Coughee's last album, "Fresh Brew"
In that update we told you that the duo are currently working together on both Devin's next solo album and the next Coughee Brothaz group album both set for release in 2012 but in the meantime Java Starr is gearing up to release a solo project.
Right now he's putting the finishing touches to his mixtape "Devin the Dude Presents: Radio 4:20" and we dropped off the first single entitled Lost which features Twista and Yukmouth over production from The Legendary Traxster.
Today we return with another sample of the project entitled "3 Shots of Patron" that features Too Short – check out out below.
Java Starr – 3 Shots of Patron (Feat. Too Short) (Audio)
"Devin the Dude Presents: Radio 4:20" is due out in late January 2012 and Twista makes multiple appearances on the tape while The Legendary Traxster produces the majority of the mixtape. Too $hort, Devin The Dude and Cory Mo are included as additional features.