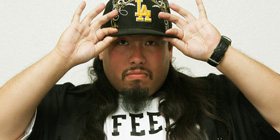 After re-christening himself as "The Third Coming Of Funk" last year XL Middleton dropped his acclaimed 26 track release entitled The Hedonistic Mixtape right here on Dubcnn alongside DJ Age in June 2011.
The mixtape was jam packed with exactly what you'd expect; funked-out basslines and rich chord arrangements and features including Clinton Wayne, BlackWest, Reality Jonez, Harold Blue, Lady Deuce, Rev, Young Sau and King Tee over production from XL Middleton as well as J Schon, Docc Free, Sic Sense, Doggmaster and xXx Productions.
The Hedonistic Mixtape was always planned to be a teaser of XL's "The Hedonistic Album" which is due this year and today we are dropping off his new video from the album entitled "Low Key High Note."
As ever XL has put together something original, think Enter The Dragon meets Super Mario Bros and follow XL as he fights the evil that stole his love interest! Check out the B. Mahlberg directed video below!
XL Middleton – Low Key High Note (Video)
Enjoy and ensure you drop your feedback on the Dubcnn Forums and directly via Twitter to XL Middleton.