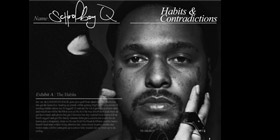 ScHoolboy Q returned this month with the follow up to 2011's acclaimed Setbacks project with his Habits & Contradictions LP from which we've brought you singles including Blessed featuring Kendrick Lamar, Sacrilegious and Druggys Wit Hoes Again.
Today we are back as ScHoolboy Q has just released the JeromeD directed video for the track "NigHtmare On Figg St." which you can watch below.
ScHoolboy Q – NigHtmare On Figg St. (Video)
Dubcnn has been all over ScHoolboy Q since he emerged with the mixtapes School Boy Turned Hustla and Gangsta & Soul – if you're not familiar get familiar and then support by copping Habits & Contradictions via iTunes today.