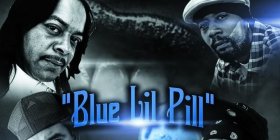 Young Brown – an MC who had been missing from Dubcnn for some time – was back in the mix [see; Young Brown Is Back! Suga Free, WS Bugg & More ] with the first new music since his Damage Control project hosted by DJ Warrior andJ Steez.
That release included music such as Right On! featuring the Pomona Pimp himself Suga Free as well as WestSide Bugg, the solo track Young, Gifted & Brown and its music video.
In August last year we dropped off the single City Slickers featuring G. Malone and PebRocks and hoped to bring you more before the close of the year.
That didn't happen but now we know why as we've just been sent word that Young Brown and J Steez are working to complete their first official project together called "38 Special" which will also feature the likes of Suga Free, Butch Cassidy, G Malone, Nipsey Hussle, Knoc-Turn'Al, Shade Sheist, Bad Azz and many more.
We've been sent the first single "Blue Lil Pill" – which dropped this week for paid download on iTunes earlier this week – to drop for our readers to Stream.
The record features appearances from Suga Free, Butch Cassidy and Ms. Tiana over production from J Steez.
J Steez & Young Brown – Blue Lil Pill (Feat. Suga Free, Butch Cassidy & Ms Tiana) (Audio)
"38 Special" is scheduled for a June or July release and we will be updating you on it every step of the way! Expect a video to drop during March and the duo – who rocked the Galaxy Theater with DJ Quik & Suga Free this past weekend – to be doing more shows across LA.
Enjoy the single then head to iTunes and support it! Make sure you Follow Young Brown and J Steez on Twitter.