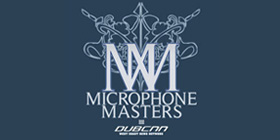 Welcome one and all to another episode of the Microphone Masters Radio Show right here on Dubcnn.
Last week the your hosts J-Luv and Blaze Rock brought you an exclusive interview with Topic – listen if you missed out – and this week they are back to bring you some heat from the likes of 8Ball, Phonte, Brother Ali, Chace Infinite, Slim the Mobster, Trap, Mean Doe Green and Sean Toure.
J-Luv sparks a mini debate with Blaze about change. Do you think it is easier to make wholesale changes or incremental ones? Blaze also shares his thoughts on racism in America and his opinion on whether or not we are just feeding into the stereotypes. These and other topics like the demise of Wu-Tang and arrogance vs. confidence will keep your head nodding and brain cells regenerating.
Dubcnn Radio: Microphone Masters Radio Show – Episode 41 (02/13/12)
Enjoy the show, leave your comments on the show page using the Facebook Comment tool and ensure you take part in the show by contacting us through Email, Facebook, Twitter, on the Forums or by calling us on 602-903-FLOW (3569). Remember if YOU want to advertise on the show then ensure you email in today.