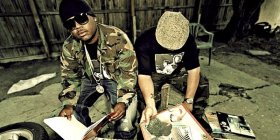 No One (Dae One & Noni Spitz were ever-present on Dubcnn during 2011 in the build up to the release of their long awaited album "The Substance" which dropped late last year and can be downloaded via The duos Bandcamp page.
During the year we gave you media from the duo including How It Iz as well as its Music Video, produced by Dae One, the remix to which is featured on the Clearance (Substance Abuse) Mixtape as well as the video for Sad But True with Mike Ant.
We've also gave you Kicks before following up with the fast-paced West Coast banger, featuring two special guests Jay Rock and Butch Cassidy called 3's Company.
Towards the end of last year Dae One & Noni Spitz dropped off a record called We That that appears on the soundtrack for their James Wade directed 5 Part comedy movie "Out On Bail" which dropped on YouTube in September, if you haven't watched it yet, check it here.
We are back today with news that the duo are ensuring 2012 is as prolific for new music as the last 12 months as they will release the "Midnight Selections EP" for digital download this Tuesday February 21st. We've been sent two singles from the EP to drop today, the first being "Spots and Tattoos" which leaked last week, and the second called "Intervention" – a record where Dae One shows the audience his singing capabilities over a production by AAYHASIS – listen/download them both below.
Noni Spitz & Dae One – Spots and Tattoos (Audio)
Noni Spitz & Dae One – Intervention (Audio)
The "Midnight Selections EP drops this Tuesday February 21st and features production work from Dae One, Focus, Sega, Smokey Lane and Terrace Martin – checkout Dubcnn for the latest and until then cop "The Substance" from the duos Bandcamp page.