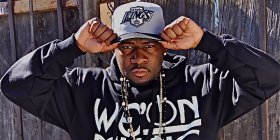 Having spent much of the last 12 months rehabilitating from four gunshot wounds suffered in the May of 2010, K-Boy has been back on Dubcnn regularly once again over the last 3 months.
The talented LA representer may have been delayed by the injury but is most definitely not letting the setback hamper his aims to release his album later this year. In 2011 he returned with a work ethic stronger than ever and has moved from under Glasses Malone's Blu Division/Division Music to form the We'On Music Group.
In our recent updates we have given you new music including the acclaimed By Any Means (Malcolm X) record alongside Kendrick Lamar and shortly afterwards the duo dropped the music video for the track.
In October K-Boy released another single and video via Dubcnn, this time over a Kuddie Fresh production featuring Nvis and MeMe, called Need Your Love – watch the video – and a little under two weeks ago K-Boy dropped off the Nvis and MeMe featured Lights On single, said to be from his "The Blue Light Special" LP which he hoped to release later this month.
Today we are back with good news and bad news. The bad news is that "The Blue Light Special" album has been delayed while he makes some adjustments to the final project. The good news is that he is filling the new music gap by teaming up with Ace and Conflict for a mixtape entitled "The Strip Club" which will be hosted/mixed by DJ Hed, DJ Mike Smoove, DJ Nez Nice, DJ Far & DJ Jay Byrd.
We have the first record to be unveiled from "The Strip Club" a solo cut produced by his in house producer Rick Hughes that is an anthem for "Secret Sundayz" the newest and hottest gentlemen's club in Los Angeles – listen below.
K-Boy – Secret Sundayz (Audio)
We will keep you updated on the release of "The Strip Club" over the coming weeks and more news on the rescheduled "The Blue Light Special" over the coming weeks. Shoutouts to K-Boy from all @Dubcnn, hit him up on Twitter right now.