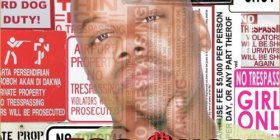 Barely a day has gone by in recent weeks where Too $hort hasn't featured on Dubcnn in the lead up to dropping his 19th solo album, "No TrespASSing" – usually with a music video for you to check out.
As we reported on Tuesday February 28th "No TrespASSing" is now available in stores and online and we also caught up with the man himself for this Exclusive Video Interview – that doesn't mean though that the videos have stopped.!
In recent weeks alone $hort has been releasing back to back visuals to tracks off "No TrespASSing," first up was Money On The Floor with E-40, Hey with Silk-E, Double Header alongside Wallpaper, I Got Caught featuring Martin Luther, Hog Ridin' alongside fellow legend and veteran Richie Rich and late last week dropped off Playa Fo Life' featuring Dom Kennedy, 1-O.A.K. and Beeda Weeda.
Today we are back with a video for "Porno B*tch" that features footage of $hort at the 2012 AVN Awards show – check it below.
Too $hort – Porno B*tch (Video)
Enjoy and remember "No TrespASSing" is now available in stores and online now. Also ensure you check out the this Exclusive Dubcnn Video Interview today for more about the project.