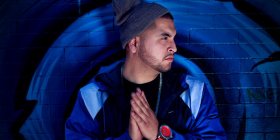 Matt Allenn first emerged on Dubcnn in 2009 with the DJ Ill Will & DJ Rockstar hosted project We Got The Juice Vol. 1 as part of The Juice County Allstars – a foursome consisting of M.A., Champ, Kali, & Buddy P.
Following that release Matt Allenn aka M.A. dropped the solo record Soldier with Hot Dolla and Topic and then Put My City On featuring Juice County Allstars member Champ and Tommy Vonjo with production from Anthem.
Both these singles were said to be from his upcoming debut solo LP "N 2 Deep" and in mid 2011 he dropped the video for Soldier.
Towards the end of the year he announced he planned to release a self-titled EP at the turn of 2012 called "Matt Allenn EP" and in the weeks that followed he dropped back to back singles on Dubcnn including Go Up featuring Kid Ink and Dominic and then 4 Quarters.
Earlier this year we dropped the full Matt Allenn EP for free download as well as the video for Grand Slam which was produced by T.H.X and directed by James Curtis/GorillaFlix. Today we are back with another video from the Matt Allenn EP this time for the track "Break It Down" produced by Ky Piffa and directed by Calmatic
Matt Allenn – Break It Down (Video)
Enjoy and lookout for more news and media from Matt Allenn right here on Dubcnn.