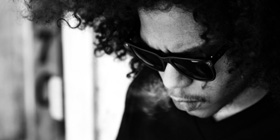 Earlier this month Top Dawg Ent rapper Ab-Soul was back with news of a new album due later this year [see Ab-Soul Plots New Project, Unveils "Terrorist Threats"] with the teaser record Terrorist Threats featuring Danny Brown & Jhene Aiko over production from Dave Free of Digi+Phonics. Ab-Soul has been on a journey since his 2009 debut project "Long Term" (Download | Stream) with the breakthrough release Long Term 2: Lifestyles Of The Broke & Almost Famous [Download | Stream] on Dubcnn in 2010 that produced singles including Livin' Like featuring Rapper Big Pooh, Drift Away, Turn Me Up with label mate Kendrick Lamar and the title track Long Term 2.
Last year he followed up with a street album Longterm: Mentality featuring Kendrick Lamar, Schoolboy Q, Punch, Sounwave, Tae Beast, Murs, Jhene Aiko, Alori Joh, Javonte and more and already this year has dropped Black Lip Bastard, produced by Willie B as well as announcing that he and ScHoolboy Q are getting ready to hit the road for a tour titled THe Groovy Tour across the country during April and May starting in San Francisco on April 20th and finishing on May 20th in Seattle [see full list of cities and tour dates].
In our update earlier this month we dropped the visual for a track entitled Pineal Gland where the TDE talent pushed the boundaries of thought over the Tae Beast produced track, which will appear on Soul's upcoming album "Control System" which has now been given a release date of May 11th 2012 via the previously announced Top Dawg Entertainment/Aftermath/Interscope deal.
Last week we followed that up with another sample track called SOPA with ScHoolboy Q, with whom he is currently on a nationwide tour.
Today we are back with another video, this time for a track entitled "Empathy" featuring Alori Joh – who sadly passed in February of this year – jaVonte'. Tje record is produced by Skhye Hutch and and, as usual, Mixed by Ali. The video, which you can check below was directed by JeromeD.com
Ab-Soul – Empathy (Feat. Alori Joh & JaVonte') (Video)
Enjoy and stay tuned to Dubcnn and remember; if it ain't here; it ain't count! Shouts to Ab-Soul and the Top Dawg Ent team. Remember "Control System" drops May 11th 2012 via Top Dawg Entertainment/Aftermath/Interscope.