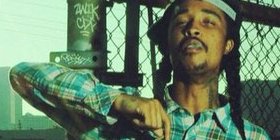 Earlier this month we caught back up with Long Beach representer TayF3rd to drop off his just released free project; The Sand King and then this week he featured as a guest interview for Dubcnn Radio Episode 49 (05/25/12).
Having featured alongside Problem on the track Some Other Shit fromTerrace Martin's acclaimed "Locke High 2" project, TayF3rd has been featured on Dubcnn with the videos for Mr. Ride By My Only and then theNelson Moran directed My Juice which flipped The Weeknd's "My Zone."
The 13 track The Sand King project featured appearances from Tgooch, G Malone, Brittany Barber, Yung Brodee, IndianBlue, Compton Menace and Terrace Martinand today we can confirm that the track featuring Terrace Martin – "Just Wanna" is to be made into a music video in early June. While we wait to bring that to you we are pleased to present the single off The Sand King for you to stream/download below!
TayF3rd – Just Wanna (Feat. Terrace Martin) (Audio)
Stay tuned to Dubcnn for the latest and ensure you Follow TayF3rd on Twitter.