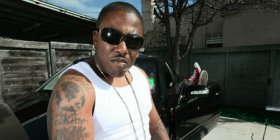 The OG Messy Marv aka The Boy Boy Young Mess just sent over his brand new single "I Got A Question", on which he collaborates with Waka Flocka's crew, the Brick Squad Monopoly. The song finds Brick Squad's Papa Smurf and YG Hootie joining Mess on this street single, off the upcoming "A Hundred Planes" soundtrack, which will be dropping on July 31st 2012. Listen below:
Messy Marv – I Got A Question (ft. Papa Smurf & YG Hootie) (Audio)
Hit up Mess on Twitter and also be on the look out for his upcoming video, "2 Stepp'n", off his last album, "Da New Frank Lukas Dat Neva Wore Da Mink Coat".