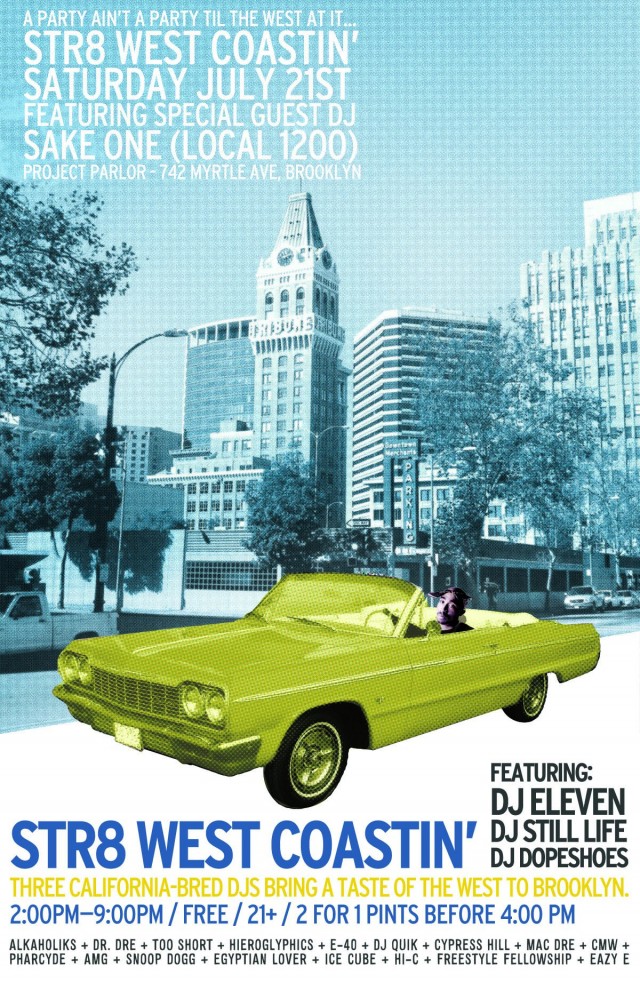 Last year we dropped the update Stranded In NY: DJ's Drop Str8 West Coastin' Megamix which introduced you to DJ Eleven of The Rub, DJ Dopeshoes & DJ Still Life who hail from the West and for a multitude of reasons ended up in New York and each share the same need to ensure they get their fix of Westcoast music!
Last summer they hosted a set of Str8 West Coastin' free parties brining the West to Brooklyn and we featured the Str8 West Coastin' Megamix they put together that featured everyone from 2 Pac, Damizza, Nate Dogg, DPG, Mack 10, Trackademicks, Pac Div, Dr. Dre, Knoc-Turn'Al, King Tee, Tha Liks, Cypress Hill, E-40, The Pharcyde, Warren G, Ice Cube, Snoop Dogg, DJ Quik, Keak Da Sneak, NWA, Skeelo, Too Short, Hieroglyphics, Lady Of Rage and many more.
Last month they brought the Str8 West Coastin' parties back for the summer of 2012 and we've been sent their live mix for you to enjoy as well as a Photo Gallery of the event!
DJ Still Life & DJ Eleven – Str8 West Coastin' June 2012 Mix (Audio)
Enjoy almost 50 back to back bangers and then make sure you click the news image to see the second Str8 West Coastin' party of 2012 which takes place July 21st w/ guest DJ Sake One @ Project Parlor (742 Myrtle Ave, Brooklyn) from 2:00 – 9:00 PM for 21+ where admission is FREE! The guys will also return on August 18th with special guest DJ Steve1der who you will remember from his now legendary – over 100,000 downloads/steams on Dubcnn alone – The Best Of Nate Dogg (70min Mix)