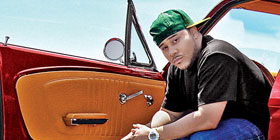 Dubcnn regulars will remember that a little over a year ago Bay Area's Balance was on his Murder Monthly tip dropping hot new music relentlessly, the standout record being Alchemist produced by none other than Alchemist!
Since then Balance has had a huge year dropping the long waited Golden State Warriorz 2 mixtape for free, appearing on Dubcnn Radio: Microphone Masters and collaborating on a long list of projects.
Today Balance has taken a trip back to last year and the Alchemist record to drop a visual alongside Award Winning Director Jae Synth. The record is said to be featured on an upcoming mixtape with New York's DJ Rhude called "Most Known Unknown" set to drop in October.
Balance – Alchemist (Video)
Enjoy and ensure you follow Balance on Twitter.