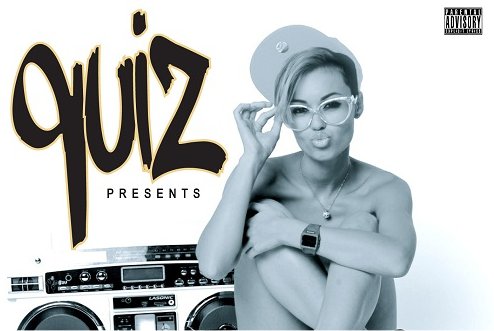 As we've reported across much of 2012 Blu Division artist and Glasses Malone protege Quiz has had a busy year getting ready to drop the follow up to his Pass Or Fail project. In previous updates we've brought you the video freestyle to Super High, the single Start It Up, then its music video, plus Devil In A New Dress and its music video, the Workout (Freestyle) and the Sega produced Money.
In the more recent weeks leading up to the release of "Dope Kicks Fresh Hats" we've also brought you the Workout (Freestyle) Video as well as the title track Dope Kicks Fresh Hats and then the Rapper Big Pooh featured Just Do Me as well as a Lord Knows Freestyle Video alongside Glasses Malone tackling the Just Blaze produced "Lord Knows" by Drake. The final few updates saw a video for his New York, New York freestyle, the Crooked I featured Blow The Horns and Talk Shit, Burn Rubber; a collaboration with LA favorite THURZ.
Today we can present the full 16 track free download of  "Dope Kicks Fresh Hats" featuring appearances from Rapper Big Pooh, Crooked I, Curtiss King, Thurz, Brooke Taylor, Glasses Malone
Lo Diggs over production from Sega, Style Misia, The Ivy League, Rocky LA Based, Tha Bizness, Curtiss King, THX, Macado and more.
[raw]
[/raw]
Tracklist
01) Intro (Produced by Sega)
02) Just Do Me (Feat. Rapper Big Pooh) (Produced by Style Misia)
03) Blow The Horns (Feat. Crooked I)
04) Money (Produced by Sega)
05) Talk Shit Burn Rubber (Feat. Thurz) (Produced by Rocky LA Based(
06) Dope Kicks Fresh Hats (Produced by Sega)
07) By My Lonely (Feat. Glasses Malone & Lo Diggs (Produced by Tha Bizness)
08) Only Right (Feat. Brooke Taylor) (Produced by Rick Hughes)
09) Stay (Produced by YO)
10) Feeling Is Gone (Produced by Curtiss King)
11) Insight (Produced by Macado)
12) One Love (Feat. Curtiss King) (Produced by John Doe)
13) Hendrix Theory (Produced by THX)
14) Sweetest Revenge (Produced by THX)
Enjoy the mixtape and ensure you follow Quiz on Twitter.