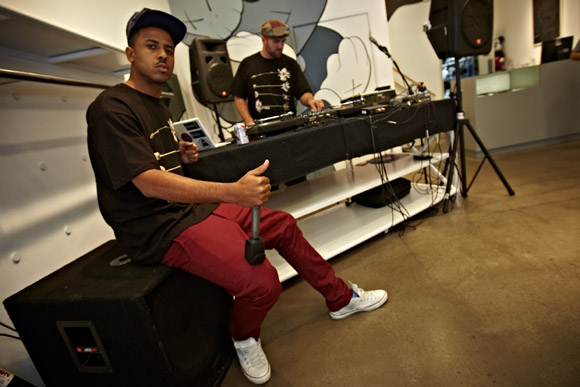 Last year L.A. prodigy Blu rocked at Paid Dues alongside Exile and Fashawn [Blu Performs New Song w/ Fashawn & Exile @ Paid Dues 2011 Video] before taking time to speak to us about his upcoming album"NoYork!" in this exclusive Interview.
Then he was back dropping Doin' Something, a posse cut which saw Blu, Pac Div, U-N-I, J*DaVeY, TiRon and Aymomari all on one song.
Later in the year he was back, not with "NoYork!," but under an adopted an alter-ego B for his latest interim project "Jesus." That release – which is in stores now, and can be bought via Amazon andiTunes and features memorable collaborations with the likes of Alchemist, Madlib, Planet Asia, and Hezekiah – spawned the Madlib produced title track Jesus and the accompanying music video released in early 2012.
Within weeks of that LP Blu was back with another new release under Nature Sounds, entitled"Open" that saw Blu showcase his beats more than his mic skills as he produced every track including the single Avenge Of The Cheap alongside frequent collaborator Sene and the acclaimed Steel Remains (Raw)
In June we reported that Blu & Exile were back in unison for a new album "Give Me My Flowers While I Can Still Smell Them" in which we also brought you the Announcing… Blu & Exile – Give Me My Flowers While I Can Still Smell Them video. The album has since been released on iTunes via Dirty Science / Fat Beats and last  weekend – September 1st – Blu & Exile performed at Stussy Los Angeles in celebration of the album release. The free in-store reached capacity almost immediately, leaving 200+ fans outside and today the guys have released a video and photo recap via Stussy. The video can be watched below and the photos viewed here.
The Tees seen in the video are part of the limited edition of 500 box set or can be purchased individually via Stussy.