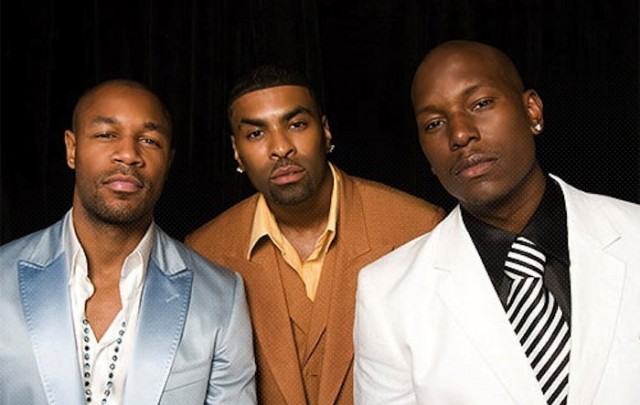 Our latest recruit Tim David Harvey has just submitted his first feature, a look at the R&B Rat Pack; Tyrese, Ginuwine & Tank.
Rhythm and blues music is all about heart, devotion and soul. It's all about 'Sex, Love & Pain', 'The Life' and powerful music like '2000 Watts'. It isn't about, auto-tunes, disrespecting women or basic things like clubbing and drinking. It's about the finer things in life. It's about those intimate moments with that special person. It's all about love. It's about partnership.
With the group TGT, you have the perfect partnership. R&B's big three like the Miami Heat in basketball. Instead of LeBron James, Dywane Wade and Chris Bosh however we have Tyrese, Ginuwine and Tank. Three grown men, moving units and females hearts. Three of the realest singer/songwriters and even producers of their generation. Sure label pains once made the birth of this supergroups debut more than overdue, but that hasn't stopped these hard workers grind. From Slim Thug features to remixes and unreleased gems these solo acts have kept it moving with their own perfect projects. Now Tyrese has announced breaking news this year that these self-dubbed R&B Avengers are reuniting to rip the doors off the studio and button up for the forthcoming 'Shirts Off Tour'. Ladies are you listening? The boys are back from town to town. It only gets better. It hasn't been this real since Jodeci. You will see. Let us spell it out for you.
Tank dropped his latest, greatest, 'This Is How I Feel' this year. While 'Elgin' came out last Valentines. In-between films, Tyrese isn't being left out either as his 'Open Invitation' has made it an open season for classic R&B after its release on the historic 11/01/11. 2012 is about to button up, shape up and look real grown. Alantic Records have made it all official too. So if your sick of all this watered down, throwaway pop, R&B that dominates the charts, take three of these and call the request line in the morning.
T is for Tank. Once underrated, now celebrated like his big collabo with Drake. From penning and producing hits from everyone from Marques Houston to Jamie Foxx, it was about time that this unselfish talent was given the Hollywood treatment. He really is a problem…in a good way. When 'Sex, Love & Pain' was released the industry was blessed with an R&B album that covered every aspect from 'I Love You' to 'I Hate You'. Tank really brought a battalion of hits. He should have got the Grammy. He heated up with 'Coldest' and married himself to pushing the concept envelope with his incredible 'Wedding Song'. If R&B was missing a true voice, dun, dun, dah, it arrived. The man with the superman physique, became an R&B hero to marvel at.
Tank followed his classic with another great album to close out last year. 'Now or Never' heated up the R&B and mainstream charts like it's single 'Emergency'. Once again Durrell Babbs resuscitated R&B from it's state of alert with an album to save those late night playlists. With loud tracks like 'Scream', 'Sex Music' and 'Foreplay' and quiet and private, deep devotions like 'I Can't Make You Love Me' and 'You Mean That Much To Me' and 'Keep It 100' Tank really showed he had an arsenal of hits. Since then more musical artillery came out from Tank with the highlight reel worthy 'Diary Of A Mad Man' mixtape (featuring great cuts like 'Stars Girl', 'I Be On One', 'Get Back' and more) and the last week recent release of 'This Is How I Feel'. Another classic album with hits like the praise-worthy 'Compliments', 'Nowhere', 'Lost It All', 'Lonely', 'Better Than Me', 'Next Breath' and the slowed down vocal of the experimental up-tempo 'Off Your Hands'. Now the acclaim comes as Tank and R&B are far away from situation critical. Writing, singing and producing, Tank is involved in the whole process of his work. Now with that degree of study to music, how could you deny and not dedicate your time to this guy? Now the songs keep coming and Tank's phone keeps ringing. He went for his with a 'Now & Never' outlook and this is his moment. Don't forget it.

G is for Ginuwine. The genuine article when it comes to R&B singers. He's a legend. He brought the dancing before Ne-Yo, before Chris Brown, before even Usher. FACT! A superfriend years before LeBron took his talents to South Beach (G owned those shores and its clubs before too). With his family of Missy Elliott, Timbaland, the legendary Static Major (R.I.P.) and Aaliyah (Rest in peace), G made some of urban music's most classic and timeless records. Music hasn't been the same since. Sorry Nelly Furtado but 'Pony' is Timbo's most original, freshest song, still to this day and it's all G. Sorry Justin but nothing sounds as good as 'Tha Bachelor'. Even after G has given '100%' and so many classic L.P's, as 'The Senior' in the game he still remains one of the most underrated talents in music.
One thing that is certain, is that he is one of the best. Sure the Timbaland collaborations may be getting as slimmer as the producer himself these days (but who knows what will come over the next few 'Thursdays') but Elgin Lumpkin's style and substance have evolved and matured even more over his career. Just check out the tracks 'Love You More' or 'I'm Still In Love' to see his devotion. Ever since 'The Senior', Ginuwine has gone 'Back To The Basics' and showed every true, real aspect of 'A Man's Thoughts' with countless quality numbers over the last decade. G has continued his run of hits and rich, deep album tracks, getting real personal on Valentines Day with 'Elgin'. Elgin Baylor went all classic like his Los Angeles Laker namesake with the perfect soundtrack for the most devoted holiday of the year, provide a disc full of 21 and older, love songs like the 'Heaven' sent first single, the radio friendly 'First Time' or the coldest cut 'Frozen' and the single 'Break' which brought the whole album together. 'Elgin' is another classic in the G man's catalogue.

T is for Tyrese. Ever since the kid with the big smile and an even bigger voice stepped on the bus and sang about a soft drink the hard work and thirst for success hasn't stopped. From his self-titled debut to his big hit movie with Snoop Dogg, this 'Baby Boy' has really grown. He's a bonafide actor and singer whether with his 'Four Brothers' or the other two letters that make his music group. Ty really advanced far with 'I Wanna Go There', and the smash hits, 'How You Gonna Act Like That' and 'You Don't Give A Damn About Me' that opened the album. Still it was the double disc, rap and R&B set 'Alter Ego' which really displayed this mans multiple talents. With his rap personality Black-Ty, Tyrese moulded himself into a more than just legit rapper and confirmed himself as a real triple threat. As for the R&B, Black-Ty still got down, making some of his best music with 'Come Back To Me Shawty', 'Gotta Get You' and the standout single, 'One'.
Even Lady Gaga and Beyonce can't stop this man. Pick up the telephone and go tell somebody about this guys inspirational characters on Twitter and his great book, 'How To Get Out Of Your Own Way'. Tyrese is crafting himself another career as an incredible motivational speaker. Still he hasn't forgot about music, even in-between his further, great support of the awesome 'Fast & Furious' and 'Transformer' franchises. Between chrome and robotics you've seen Mr. Gibson line the silver screen last Summer but a new album came too last fall.
Thanks to his fans tweets we've received an 'Open Invitation' to what Ty's got in store from the studio. From the hot club record 'Too Easy' (with fellow 'Fast', petrol-head Ludacris) to the sublime 'Stay' (an incredible, inspiring 11 week Number one on the Urban Billboard charts), 'I'm Home' and 'I Miss That Girl' this album is fast, furious and transforming the game. A number one album for two weeks, with 350,000 units dropped on his own imprint label 'Voltron Recordz'. I guess that so-called music industry "expert" who said Tyrese couldn't sell better clear out. 'Open Invitation' is Ty's best to date in a discography of classics (even the B-Side of 'Rest Of Our Lives' with Brandy is a classic). It's an R&B 'Takeover' with tracks like 'I Gotta Chick', 'Nothing On You', 'Best Of Me' and 'Angel'. It's all on Tyrese and we're really getting the best of him. Tyrese really is home.
It's no coincidence that these three men joined forces a couple years back. Thanks to their versatile and focused talents they are on a real hot streak in their own respective works. As if their careers weren't great enough already, coming off their greatest albums the big three are about to add more perfect projects to the resume. This all deserves one more album right? With the legend Ginuwine, Hollywood's Tyrese and music's master Tank, TGT have every ingredient of real music. The R&B 'Rat Pack' is back. Now isn't that a recipe for success? Time to say bye, bye to fast food R&B and rewind and take it back to some classic talent. Get your tape decks ready and let 'em play.
Because the TGT album is coming.