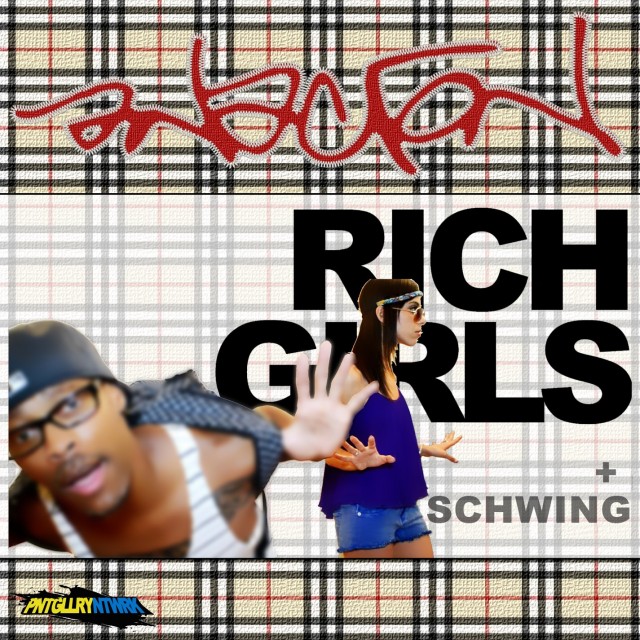 Back in May we re-introduced readers to Anacron, an artist we had first brought you in December 2007. Having released a hugely underrated album with Murs under the group name The Netherworlds in 2001, Anacron worked on projects including Cornrowz withOld Man Malcom, the original DJ from Garbage and Citizen King dropping tracks like Panties (Old Man Malcom Remix) with Murs plus solo material like Pneumonia (Way 2 Sicc) produced by Earmint, Club Etiquette and We Got The Beat alongside Irie of Pairograffs.
In mid 2008 the Los Angeles native dropped a free EP for Dubcnn readers that featured new material. The Anacron – Dubcnn EP featured 8 tracks of dope music – if you missed it, you might be four years late but its never too late!
It was 4 years from that EP until we next had Anacron on Dubcnn.com but in those years he'd been far from silent, dropping material including "Cornrowz: The Album That Never Was," the"Unscene Quartet EP," a string of singles as well as 3 instalments in a series of remix projects called"The Facelift."
"The Facelift 1: Fabricated Features" dropped in 2010, "The Facelift 2: ArtOfficial Attributes" in 2011 and earlier this year he dropped his third annual remix album where he once again took a set of existing records and reworked them; bending and sometimes breaking the original structure of tunes with mild to extreme crafting and arrangement. This years 12 track The Facelift 3: Cosmetic Characteristics saw him tackle cuts from Kokane, Nicki Minaj, DJ Quik and more. The Facelift 3: Cosmetic Characteristics is available free via BandCamp but in that May update we dropped the  So West Coast (Anacron's Facelifted RMX) featuring MDA & Z-Man over a DJ Quik instrumental, as well as Twilight Zone (Anacron's Facelifted RMX) with Kokane.
Today we are dropping off Anacron's first official cover that sees the L.A. underground Hip-Hop dynamo take The Virgins breakout hit "Rich Girls" to new heights; re-working the producing, playing, and performing of the hit tune in a typically atypical fashion! Using every live instrument and programming tool within reach, Anacron has "splashed a funky glaze onto the already rocking composition, making it an eclectic yet danceable extension of the original that rolls completely into it's own genre-unspecific lane."
Anacron's "Rich Girls" is available to buy now alongside a B-Side called  "Schwing" – an experimental hip hop track that really caught our ear – its a track where Anacron denounces "swag" that he also produced. He also just told us to expect an incredible remox of the record featuring Bad Lucc, Tajai of Souls of Mischief, Skotch (NYC), & Firewater (St Louis) – stay locked to Dubcnn for that! Until then check out both records below.
Anacron – Rich Girls b/w Schwing
[raw]
[/raw]
Producers Alert
Off the back of his single Anacron has issued an open call to all producers to reinvent his latest single, "Rich Girls" as part of a Soundcloud, Monster Energy and The Holodigm Music Academy backed contest.
Whether established, up-and-coming, or simply a hobbyist; music makers of all styles are welcome to participate in the contest and invited to submit entries via Soundcloud contest Drop Box widgets at AnacronMusic.com. Artists are encouraged to re-work the tune in their own unique sound, style, and perspective, utilizing elements from the original recording coupled with their own personal library of tricks and tracks.

The contest launches Monday, September 10, 2012; and submissions will be accepted through Wednesday, October 10, 2012. EVERY ENTRY WILL BE LISTENED TO, and finalists will be selected by a panel of 5 judges. Track plays may be taken into consideration in the event of an indecision, so participants are encouraged to share their entries with friends and followers. The contest concludes Friday, October 12, 2012, when prize winners will be announced by Anacron.

Three selected remix contest winners will receive the "UNFAMOUS Artists' Survival Kit"; a prize package containing the following items, essential for the survival of any underground and/or unknown musician:

– An official UNFAMOUS T-shirt, provided by Anacron's UNFAMOUS Indie Arts showcase series
– A free digital copy of "Guerilla Rock"; an independent artist's career guide written by iconic music manager, veteran agent, and visionary record industry executive, John Hartmann, provided by John Hartmann
– A free membership to John Hartmann's Holodigm Music Academy online seminar series, provided by Holodigm Music Academy
– A feature share on BandSoup.com, the internet's new standard for discovering new music by new artists, provided by BandSoup
– A feature posting on PeanutGalleryNetwork.com, the official blog of the PNTGLLRYNTWRK urban arts conglomerate, provided by PNTGLLRYNTWRK
– One week's worth of Monster Energy drinks, provided by Monster
– A pack of gum for your funky mouth, provided by the corner sto'!
Check the full contest details out here.