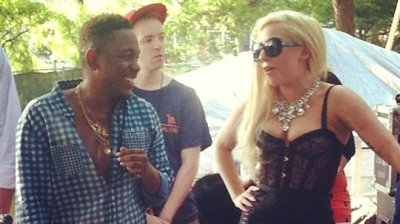 When Kendrick Lamar revealed the tracklisting to his debut album, "good kid, m.A.A.d city" on Dubcnn earlier this week,  many were surprised to see that his much hyped Lady Gaga collaboration was missing.
"PARTYNAUSEOUS" was set to appear on his debut but K.Dot told Power 105.1's The Breakfast Club that the record didn't ft with album's concept and therefore was left off.
"Me and Lady Gaga, we really good friends. She's not on the album. We got some records, but when I was breaking down the bulk of the album, the ones we picked, we set them aside for future reference. I already had everything premeditated for this day, for October 22nd."
Lady Gaga also took time to explain the confusion and reassure fans that the record would come out on another project. She explains that there were changes being made to the record by K.Dots team that she wasnt comfortable with creatively but urged her fans to support Kendricks album on October 22nd!
"I apologize to the fans that this situation with Partynausous is confusing. To it clear it up I must explain this. When I collaborate with an artist i work solely with them, not with their camps or management. Its purely organic and creative. I love Kendrick dearly as a friend, but was not willing to compromise musically to the changes his team was making to my music. This is why I am not his record. I have a very specific vision as a producer and songwriter, and I always have. That song will be released at a different time, for a different project. I love you, and think you should check out his stuff because he is truly great. He's a good kid, its just sometimes a mad city. "
Remember "good kid, m.A.A.d city," drops October 22nd, check out the tracklist and all his singles and video via our latest update; Kendrick Lamar Ft. Dr. Dre – Compton + Official Tracklisting!  Pre-order here via iTunes.