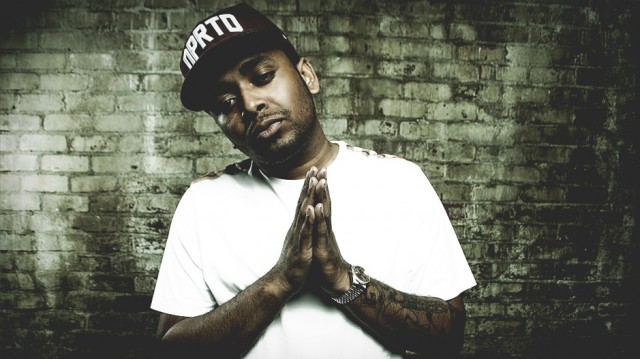 Over the last three years, Skeme has been making a name for himself and paying his dues as a new artist – all in a bubbling Los Angeles Hip-Hop scene. The Inglewood young gunner has been grinding with different mixtapes, such as "Pistols & Palm Trees" and "The Statement", and is now finally seeing the release of his debut album "Alive & Living".
"Alive & Living" features 14 tracks on the regular and 17 tracks on the deluxe version. The Duke recruited the usual suspects for the guest appearances: Dom Kennedy, Kendrick Lamar, Schoolboy Q, and Problem all share their two cents on the album. Production was handled by K.Roosevelt, THC, The Futuristiks, Boi-1da, Chase N. Cashe DJ Dahi, and others.
For more information on the album be sure to check out the exclusive Dubcnn interview with Skeme, which was conducted in August.
We have one last track available for you to preview. This is called "I Remember" featuring Kendrick Lamar and Bryan Roberts with production by K.Roosevelt. Stream only. Make sure you support if you like what you hear.  Full Tracklist and links available below, choose your pick!
Skeme – Alive & Living // Regular // Deluxe
[raw]
[/raw]
1. Alive (Produced By Boi-1da)
2. Born to Ball (Produced by K.Roosevelt)
3. We Got It (Produced By The Futuristiks)
4. Mo Flow (Feat. Iggy Azalea) (Produced By K.Roosevelt)
5. Kidz With Gunz (Feat. Schoolboy Q) (Produced by THC)
6. All The Time (Produced by K.Roosevelt)
7. Just Might (Produced by Chase N. Cashe)
8. Ain't Bout Dat Life (Feat. Jay305) (Produced by K.Roosevelt)
9. What's Ya Name? (Feat. Bryan Roberts & Dom Kennedy) (Produced by The Futuristiks)
10. How Could You Forget Me (Feat. Kent Jamz of OverDoz) (Produced by BeatBoy)
11. Lean & Weed (Feat. Problem) (Produced by Trend of League of Starz)
12. I Remember (Feat. Bryan Roberts & Kendrick Lamar) (Produced by K.Roosevelt)
13. Headed Home (Feat. Bryan Roberts) (Produced By The Futuristiks)
14. Living ( Produced by Dj Dahi)
Deluxe Edition (iTunes only):
15. Killa (Produced By Dj Mustard)
16. Everything On Me (Produced by Kenny Beats)
17. Pull Up (Produced By Dupri of League Of Starz)