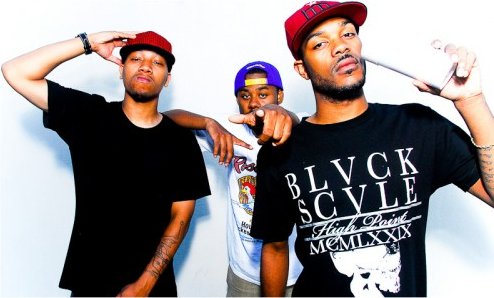 As we've been reporting over recent weeks Pac Div's sophomore album, GMB, dropped last month on iTunes.
The 17 track iTunes bonus deluxe version boasts several key features, including Kendrick Lamar, Blu, Mac Miller & Kurupt. The track, "Black Acura" dropped about a month ago as a single and last week we dropped the video.
Today the talented LA rap trifecta continue their tenacious charge in the city's rap renaissance by dropping their latest single, "Sneakerboxes," which features 17-year-old Chip Gnarly reppin' Inglewood as well as and long-time collaborator Big Sik.
With a big bass, sound-effect-laden production by the group's own, Like, the track is one of Pac Div's personal favorites off GMB as Mibbs explains;
"It's my favorite track because it has so much attitude and swagger. It definitely feels like a throwback West Coast banger, something similar to NWA with that Ice Cube/Eazy-E flow. The inspiration behind sneakerboxes is really to send a message to the nosy people or fans who wonder how much money we make. We've always been heavy on our sneaker game, whether we're trying or not, so by us having all those sneaker boxes handy, might as well use those for cash storage!"
Pac Div – Snearkerboxes (Feat. Chip Gnarly & Big Sik) 
[raw]
[/raw]
For those of you who are new to Pac Div lets not forget they started out right here on Dubcnn in 2006! Pac Div – consisting of two brothers, Like and Mibbs and long time friend BeYoung – dropped so many projects for free download via Dubcnn including Sealed For Freshness: Blend Tape in 2006 before back to back releases Church League Champions and Don't Mention It before in the Spring of this 2011 dropping their fourth mixtape Mania!, hosted by DJ Don Cannon, featuring the hit single Anti Freeze and its acclaimed Music Video.
Music and video from their first LP "The Div" included The Greatness as well as the music video for Posted as well as the Top Down video featuring Casey Veggies & Skeme. Enjoy and ensure you cop "The Div" via iTunes and stay locked to Dubcnn for more on "GMB"