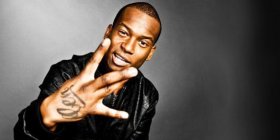 At the back end of last year, Fashawn released his long-awaited "Champagne & Styrofoam Cups" project right here on Dubcnn.
The project "Champagne & Styrofoam Cups" features Wiz Khalifa, Mr MFN eXquire, K-Young, Kobe & more over production from the likes of Exile, Jake One, DJ Dahi, Rahki, Evidence and many more.
Today, Fashawn freestlyes over Alchemist's "Olegs Flight" and mixed up with Worldwardrew production, this is from his 2DopeBoyz Freestyle Sessions.
[raw]
[/raw]