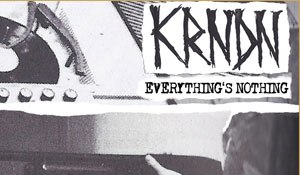 The Strong Arm Steady MC Krondon aka KRNDN has released his LP "Everything's Nothing" for free download!
The 15 track album featuring production from Cardo, DJ Khalil, 321 and DJ Dahi is the perfect way to kick off your weekend.
Below you will find the artwork as well as the full project available for streaming and download. Enjoy this one!
KRNDN – Everything's Nothing (Free LP Download)
[raw]
[/raw]
KRNDN – Everything's Nothing (Tracklist)
01) The Adventures Of Dust Boy and The Innerspace Submarine (Produced by 321)
02) 7 Eleven (Feat. TeeLii) (Produced by Cardo)
03) Lean On Me (Feat. Kobe) (Produced by KRNDN & DJ Khalil)
04) Magazine (Produced by 321)
05) I'm Moving (Feat. Shafiq Husayn and Tekietha) (Produced by DJ Khalil)
06) i1 (Produced by KRNDN)
07) For Ella Or Worse (Produced by 321)
08) Fools Rush In (Produced by Salem)
09) ABETTERBIH (Feat. Brian Alexander Morgan) (Produced by Jackson & Brian Alexander Morgan)
10) Cuban Link Gucci Rope (Feat. Donyea G) (Produced by DJ Dahi)
11) GONIGUHGO (Produced by Ro Blvd)
12) The Wells Of Roland (Feat. Donyea G) (Produced by G Ry & Merge)
13) Sweet Leaf (Produced by Rich Kidd & Frank Dukes)
14) EN (Feat. Kobe) (Produced by D.R.U.G.S.)
15) UNTILNEXTTIME (Feat. Melody Angel) (Produced by G Rocka & Medi)