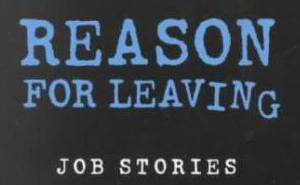 DubCNN Lifestyle is back with another book review. This week marks the release of Reason for Leaving by John Manderino in Paperback format.
Courtesy of Academy Chicago Publishers, we were provided with a copy. Check out the DubCNN review and rating below.
On a job application, there's that tricky question: Reason for Leaving? John Manderino's answers are collected here in this hilarious novel tracing the history of a guy trying to grow up job by job. Delivery boy, altar boy, busboy, teacher, cotton picker, umpire, Zen monk — Manderino's protagonist tries on one hat after another.
Purchase Reason For Leaving By John Manderino (Paperback)
Purchase Reason For Leaving By John Manderino (Hardback)
   
Rating: 3.5/5
…………………………………………………………………………………
Reason For Leaving is a coming of age story, tracking the progress of a young likeable character John Manderino has created, we follow him through a series of jobs (1961-1979) and his subsequent reason for bouncing off to the next gig. The novel begins in Chicago, working as a delivery boy for a meat market and it immediately takes off.
We are treated to no less than 17 job stories, my pick of the bunch being his hilarious stint as a baseball umpire which he paints to vividly you would be forgiven for getting lost and ending up inside the stadium watching it live with popcorn in hand.
Each story is a quick hit of comedy as our clueless slacker struggles to feign interest in yet another meaningless temporary job all the while remaining even less successful with the opposite sex. Perhaps part of the reason this plot resonates with me is due to similarities with my own life as I'm sure many will relate.
It is a very short (180 pages) but easy read I managed to complete in just one sitting which when considering the price may seem quite annoying. However, I have many meaty novels still untouched gathering dust on my bookshelf so perhaps that overrules page to dollar ratio.
I would go on some more about the book but then I would run the risk of the review becoming longer than the actual book. I kid, but seriously, its very short. I can recommend this for anybody searching for a fun, quick, casual read. John Manderino has a simple and easy to follow writing style that makes turning pages instinctive. I just wish he'd write more of them.
…………………………………………………………………………………
The views expressed here are those of the authors and not necessarily those of Dubcnn as an organisation.
…………………………………………………………………………………