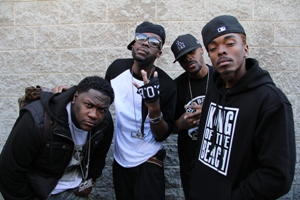 New Horseshoe Gang song to share today! A clean version of "Dumb Ass" was released last week on the Mission mixtape and today we can follow it up with the explicit version.
Crooked I's younger brothers aka the Horseshoe Gang released their new album "#TrueStory" to all digital retailers at the end of last year.
The album is available on iTunes, Amazon. In addition to the four-member gang, vocals  are provided by K-Young, Livin Proof and Iceman, with production provided by the likes of Awbskure, Rich Kidd and more.
[raw]
[/raw]