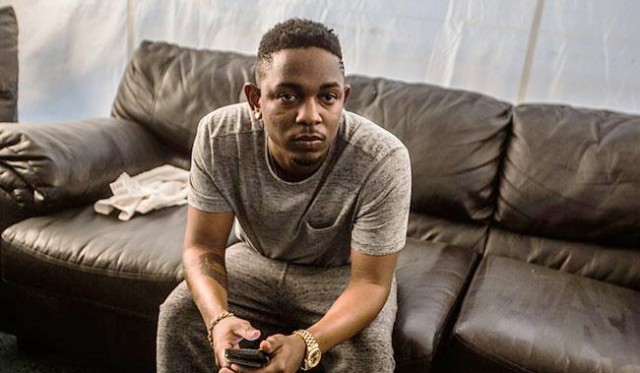 Fresh off dropping the "Bitch Don't Kill My Vibe" Remix with Jay-Z, Kendrick Lamar is back on dubcnn with yet another treat for the fans. Before invading Austin's SXSW Festival last week, Kendrick returned from a month-long tour in Europe. With the critically acclaimed album «Good Kid, M.A.A.D City" approaching platinum status, we sat down with K.Dot at his last tour stop in Zurich and discussed his major success in this exclusive interview. Kendrick speaks about his past as well as possible future directions, dealing with pressure, Dr. Dre's absence from the album, day one fans and more.
Interview is available in text and audio. Questions asked by Lil Jay // twitter.com/jaydubcnn
…………………………………………………………………………………

[raw]
[/raw]
1. DOWNLOAD AUDIO
………………………………………………………………………………

Dubcnn: We're here with Kendrick Lamar! Kendrick, I wanna talk to you about this album. It's doing real well, close to a million sold. But to start this off, I want to show you this video that we did with you back in 2007.
Kendrick Lamar: Oh I just watched this! I just watched this like 2 weeks ago.
Dubcnn: What goes through your mind when you see this video 6 years later?
Aww man, it's a great feeling knowing from where I've come and how far I've came. To actually be at that level I'm at now and look at this video is a crazy feeling. A lot of work, a lot of work over the years during that period and now. So, much love!
Dubcnn: What's the most important thing that has changed for you personally over the years?
Just growth as a person, as a man. You have more responsibilities and you start to recognize what things are important to you. I think that just within itself, wisdom. That changed for the most part.
Dubcnn: Looking back, which project was the most fun recording?
The most fun? All of them really, all of them. Because each one had a different experience about them. "Section.80" was more about a generation of people. "Good Kid, M.A.A.D. City" was more about myself. So they both had their own entity with me being in certain spaces in my life. But I'd have to say  "Section.80" and "Good Kid" for sure.
Dubcnn: When was the big turning point for you personally? "Section.80" played a big role, but then Dre came in the picture and took it to another level.
That was like the second level of it. The turning point was really trying to define who I am as an artist and say that I'm Kendrick Lamar. I think that was the first turning point of everything that really broke down the definition of what I'm doing as an artist and what I wanna stand for. That was the real, real turning point.
Dubcnn: Isn't it a lot of pressure going in the studio now because people expect so much from you now?
Man it's crazy, they would say they expected a lot before the album. I don't even know what pressure is called anymore (laughs). I think that's just a word made up now that people just wanna put on you. Because before I put this album out they were like  'How much pressure is it to work with Snoop Dogg & Dr. Dre' and then I delivered the album, now they're saying how much pressure is it for you to do it again. I don't even know what pressure is now. I'm just doing me man.  I don't even look at it as pressure anymore, I never looked at it as pressure. I just felt I'd make the best music I could make. You either like it or you don't, but it's always gonna real to me.
Dubcnn: You said after dropping "Good Kid, M.A.A.D City", that chapter in your life is over. What can we expect from you now as far as content wise?
Man I have no idea. Really, I still have a whole lot more to talk about. That album, you only got one day in the life of me being 17 years old. You got so many years to go dig in the past. Things that I have learned, lessons that I have learned. People that I've met, places I've been. So, it's a whole lot I can talk about. But once I get inspired to get back in, that's what I'm really gonna go in for.
Dubcnn: Have you recorded anything since the album yet?
No, not really. I've just been sitting back and touring as much as possible. I mean I got ideas. I'm always writing, I write everyday. But as far as locking in the studio and record, I haven't done that in a while. All I got is a pen and a pad for now.
Dubcnn: As far as Dr. Dre's involvement on "Good Kid, M.A.A.D City", he didn't really produce a track like people maybe expected. Was there a specific reason for this?
Basically Dre just told me to go out there and do my own thing. See the thing about it is, people get so caught up in the hype with just being with Dre, they just figured he had to stand over your back the whole time while you're doing music. He looked at me as an artist, cause I already had like 3 street albums out, "Kendrick Lamar EP", "O.D." and "Section.80". He said I was already ready. All I needed to do is go out and continue to do what I'm doing.  If it ain't broke, don't fix it. That was the main thing he was always saying.
By the time I came and turned the album in to him in, that was when we were supposed to lock in the studio and do some records. But he decided and said 'You're done. You don't need to go back in with me. Because you have all the records here. You have 'Kill My Vibe', you have 'Poetic Justice', you have 'The Recipe', you have 'Swimming Pools'. That's your 4 records right there. And you have a body of work that's already done. Let's put it out!' So that's how it went, simple as that.
Dubcnn: As far as "The Recipe" goes, you had a video for that song but it got scrapped. Then you followed up with "Swimming Pools". Some people didn't get it at first [cause they were expecting "The Recipe" to kick if off].
Because the original plan was to shoot "The Recipe" video behind the Coachella. That was the original idea, so we just stuck with that, rather than doing some big video. Yup.
Dubcnn: At what point did you know that "Good Kid M.A.A.D City" was gonna be a concept album?
I always knew it would be a concept album. I always had this idea on my mind, before "O.D.". I always knew my first album will be a concept simply because I looked at all the best albums that I grew up to. They always had their own identity in a certain era of music, especially now when everything is so different. So when you get a concept album from a new artist it shows that it still lives in the game.
That's just something I was raised up on. When I listened to "The Chronic" or "Makaveli" and albums like that, that's just something I liked to do. Talk about something. Hip-Hop is a fun cultural music and you can express yourself however you want to. You might not get that on every song from me, you might get that on a few songs. That song I might have switched up on you cause I felt this way on this day rather than that way on that day.
Dubcnn: Most people probably say that "Good Kid" is your best effort to date, but a lot of your old fans still prefer "Section.80". Can you see where people are coming from?
Yeah I see where they're coming from. Fans just want you as an entity, they don't want the whole world to know you. It's simple as that (laughs), there ain't nothing else to it. I see exactly where they are coming from, but in this generation today everybody wanna be on the new and not really be exposed once everybody is exposed to it. That's them feeling like 'Section.80′, I had it first! I was there first! You don't know about this!' Which is dope, they can always have them debates. Now you have people that just jumped on like 'I know him since 'Good Kid'! You know, I be 4 albums down.
Dubcnn: Nas said that you put out his favorite album of last year!
Man you know that's crazy! I was like, man that's ill. Nas is a legend, I look up to him the same way I look up to Jay, Big and Pac. He was around that whole era. And to know that he put an album out as well is incredible. It's a great feeling to know he respects what I'm doing. Means a lot, keeps me going.
Dubcnn: So when can we expect a collabo with DJ Quik man?
Aww man, yup definitely. I got plans for that he probably don't know! (laughs) He probably don't know, but for sure. DJ Quik that's the big homie, everytime we bump heads it's all love.
He tells me to keep doing what I'm doing. He's a legend, we could talk about him all day.
Dubcnn: MC Eiht said that he thought it was cool that you picked him for that verse instead of somebody else from Compton like DJ Quik or Dre.
Yeah that's well appreciated. I'm glad that he looks at it like that. He's a legend as well from the City. We all grew up listening to him. My pops, my uncles. To me, MC Eiht was just a little bit more raw and uncut, a little more agressive. You're right, I could have got Quik or Dre. I just heard his voice and I'm big on how people deliver their stuff. And his delivery matched it and he delivered once again, as always.
Dubcnn: So Schoolboy Q is next in line, but you know people still ask about that Black Hippy album!
Yeah, the focus is really about Schoolboy Q right now, with his album "Oxymoron". And maybe a Black Hippy album after that.
………………………………………………………………………………