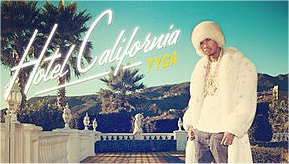 Cash Money's West Coast representer Tyga is now only one day away from releasing his new album Hotel California LP.
The album – which is set to drop on April 9th – is the follow up to last years "Careless World" release that sold over 250,000 units.
This build up to the release has seen music videos for the Game featured Switch Lanes,  a video for the Rick Ross featured "Dope", Hit Em Up which features Jadakiss in addition to 2Pac vocals as well as the single Molly with Wiz Khalifa and Mally Mal .
The later has followed suit and undergone the video treatment. The result can be viewed below.
Tyga – Molly (Ft. Wiz Khalifa & Mally Mall)
Tyga – Molly (Feat. Wiz Khalifa & Mally Mal) Audio
[raw]
[/raw]