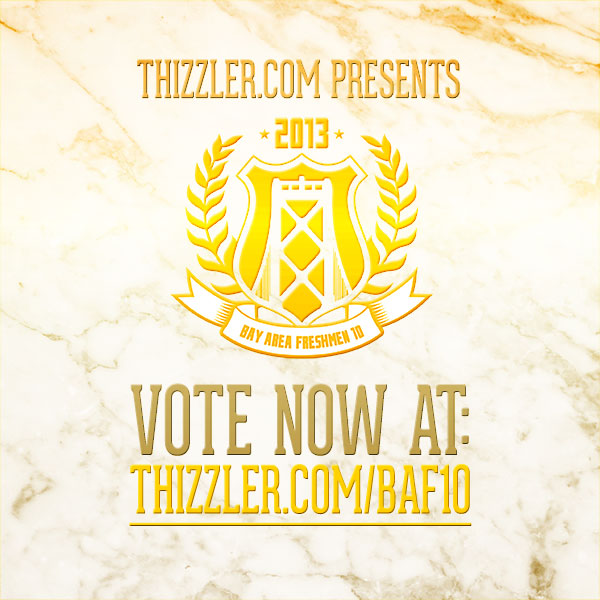 Thizzler.com's Bay Area Freshmen 10 has a 3 year history of putting the spotlight on future Bay Area stars before they blow up. And with another year in the books, it's time to figure out who's next with the Class of 2013.
Click here for everything Bay Area Freshmen related, including past classes, this year's tastemaker panel, cyphers, and more.
Fans can vote now by tweeting the names of their favorite up & coming Bay Area artists with hashtag #BAF10 to @TheThizzler. Voting ends April 29th at midnight.
The Bay Area Freshmen 10 uses a unique process to discover the Bay Area artists that are next up. First, we get the popular vote of Bay Area fans, via Twitter, Facebook and Thizzler.com (April 15th-29th). Then, the top 30 contenders are announced & introduced to the world while a panel of Bay Area veterans & tastemakers (this year's panel includes DubCNN, Empire Distribution, Hieroglyphics, E-A-SKI, San Quinn, DJ Amen of 106 KMEL, local record store chain Rasputin Records & more) narrow the list down to a select 10, who become the year's Bay Area Freshmen class.
After being enrolled, all Bay Area Freshmen are invited to participate in collaborative studio sessions, mixtapes, & other opportunities, including an Orientation concert, filmed cyphers, and a Bay Area Freshmen album.
Past Freshmen have gone on to blow up virally (Kreayshawn, 2 weeks after being named the Wild Card Freshmen of 2011), on the Billboard charts (Loverance, iamsu & Skipper with the #3 song Up!, 6 months after Loverance was named a Freshmen in 2011), in the blogosphere (Roach Gigz, DaVinci, A-1, and others), and in the streets (HD, Young Gully, DB Tha General, and more). Because of the unique process used, the Bay Area Freshmen 10 has become a very reputable forecaster of new talent in the Bay Area.
If you have any questions or would like more information, please contact emdub@thizzler.com.