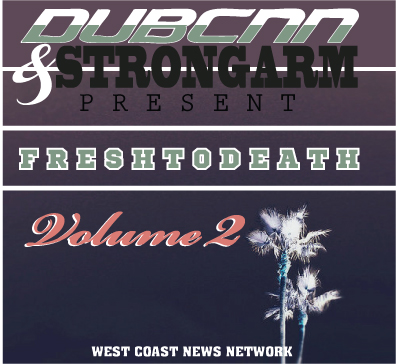 DubCNN and StrongArm have linked up for another mixtape. Vol. 1 featured some of the dopest West-Coast slaps that this site hosted between months of January-March. This edition, (vol.2) features 18 tracks from the dopest drops between April-June of this year. Check out the full track listing with production credits below, Listen and Download below.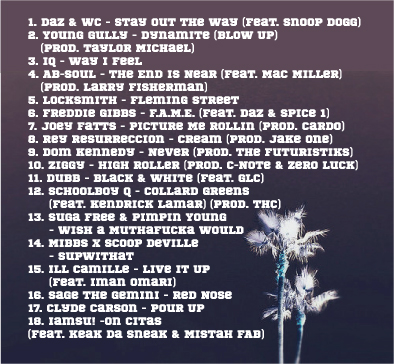 DubCNN x StrongArm Present… "Fresh to Death Vol. 2" (Mixtape)
[raw]
[/raw]
Full Production credits:
1. Daz & WC – Stay Out The Way (feat. Snoop Dogg)
2. Young Gully – Dynamite (Blow Up) (prod. Taylor Michael)
3. IQ – Way I Feel  (prod. IQ)
4. Ab-Soul – The End Is Near (feat. Mac Miller) (prod. Larry Fisherman)
5. Locksmith – Fleming Street (prod. Mike TopNoch)
6. Freddie Gibbs – F.A.M.E. (feat. Daz & Spice 1) (prod. Cardo)
7. Joey Fatts – Picture Me Rollin (prod. Cardo)
8. Rey Resurreccion – Cream (prod. Jake One)
9. Dom Kennedy – Never (prod. The Futuristiks)
10. Ziggy – High Roller (prod. C-Note & Zero Luck)
11. Dubb – Black & White (feat. GLC) (prod. Hidden Faces)
12. Schoolboy Q – Collard Greens (feat. Kendrick Lamar) (prod. THC)
13. Suga Free & Pimpin Young – Wish a Muthafucka Would
14. Mibbs x Scoop Deville – Supwithat
15. Ill Camille – Live It Up (feat. Iman Omari)
16. Sage The Gemini – Red Nose
17. Clyde Carson – Pour Up (Drank With me) (prod. Shonuf)
18. Iamsu! -On Citas (feat. Keak Da Sneak & Mistah FAB) (prod. Iamsu of The Invasion)
Cover art by Opski Chan.